Hi, I'm Koba
Status: available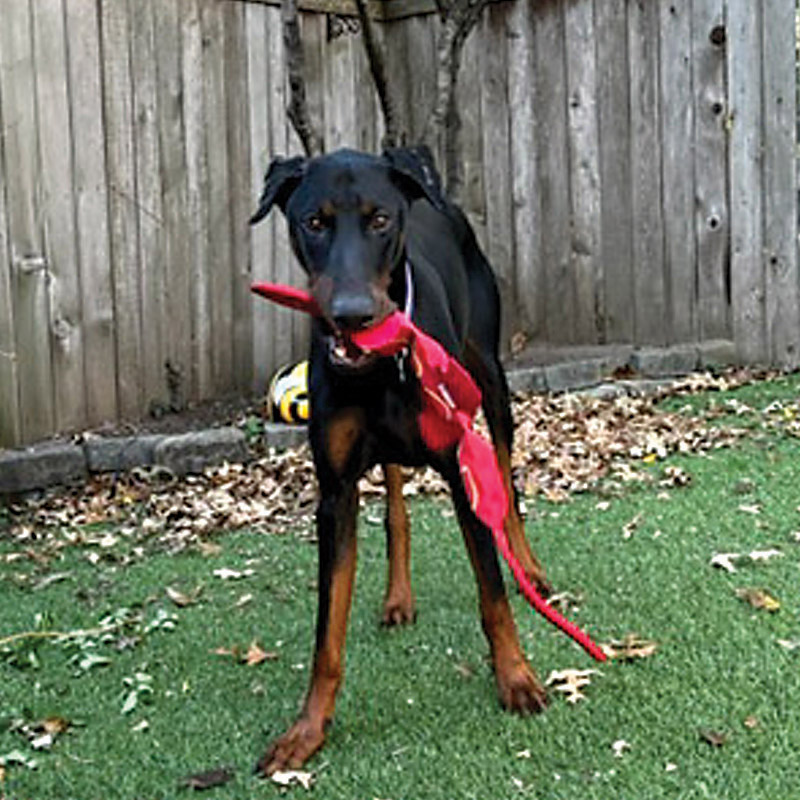 About Koba
Meet Koba, a 1-year-old black and rust male Doberman. He currently weighs about 60 lbs and has a docked tail and cropped ears.  His cropped ears don't stand but that just gives Koba his special cute look! Koba is such a dream to have around. He is sweet, friendly, and intelligent. Koba is just an all-around good boy! 
Koba is interested in the tasty smells coming from the kitchen. He will put his nose up to the counter but has never taken anything he shouldn't. He is crated when left home alone and is good for up to 8 hours and overnight. As soon as he sees a peanut butter Kong being prepared, he practically dives into his crate without having to be told. He doesn't fuss or bark when in the crate and calmly waits for you to open the door. Koba is a real snuggle bug and is quite spoiled by his foster family.  He prefers to sleep in bed with you or on the couch. He's just a sweet baby that you will want to spoil too!
 Koba will let you do just about anything to him, like brushing his teeth, cleaning his ears, and bathing him. He loves the attention. He also loves to wear sweaters and coats to keep warm, just not while he's in the crate. Koba gets a little excited in the car for the first 10-15 minutes but then settles down nicely. He is a fantastic traveler. He did very well in the hotel on a recent trip and enjoyed riding the elevator! 
Koba is very friendly with people and likes to give kisses. You'll need to be sturdy on your feet because he has the "Doberman lean" down to perfection. Koba wants to please and loves treats so he is easy to train. He knows "sit", "stay", and "crate". He sits and waits nicely for his leash to be put on for a walk. He will sit and wait until you put down his meals until you say ok to release him. Koba is playful, and goofy, and loves a basket full of toys. He's full of youthful curiosity and pulls a bit on the leash to get to whatever catches his nose. He is more manageable with the use of a no-pull training collar. Koba will benefit from continued leash training. 
There are no other dogs at his foster home, but Koba loves to say hello to other dogs on his walks. He has not played off leash with other dogs but he would probably love to have a playmate in his new home as he has a lot of youthful energy.  Koba is being fostered in Virginia.
This is My Story
Koba found himself in a shelter, and needed DAR&E to find him a new fur-ever home.
---
DAR&E only places within the Maryland, Virginia, Washington DC, Delaware, and in portions of both eastern West Virginia and southern Pennsylvania. Please do no apply to adopt if you live outside of those areas. Please visit our Adoption Process page for additional information on adopting one of our DAR&E Dobermans & an online application!
Our dogs are spayed/neutered, up-to-date on shots and microchipped.
How You Can Help Koba
A Tax deductible sponsorship gifts of any amount are welcome in support of our orphans.
DAR&E Wear
$15
Step 1 on the road to a forever home is a collar and tag. DAR&E dogs always have a home with us. Support a dog on its first steps by sponsoring the purchase of their collar and tag.
SPONSORS

All sponsorship donations are tax deductible and will be used to care for and for medical treatment for dogs in DAR&E's care. You can sponsor multiple dogs.