Hi, I'm Kobi
Status: adopted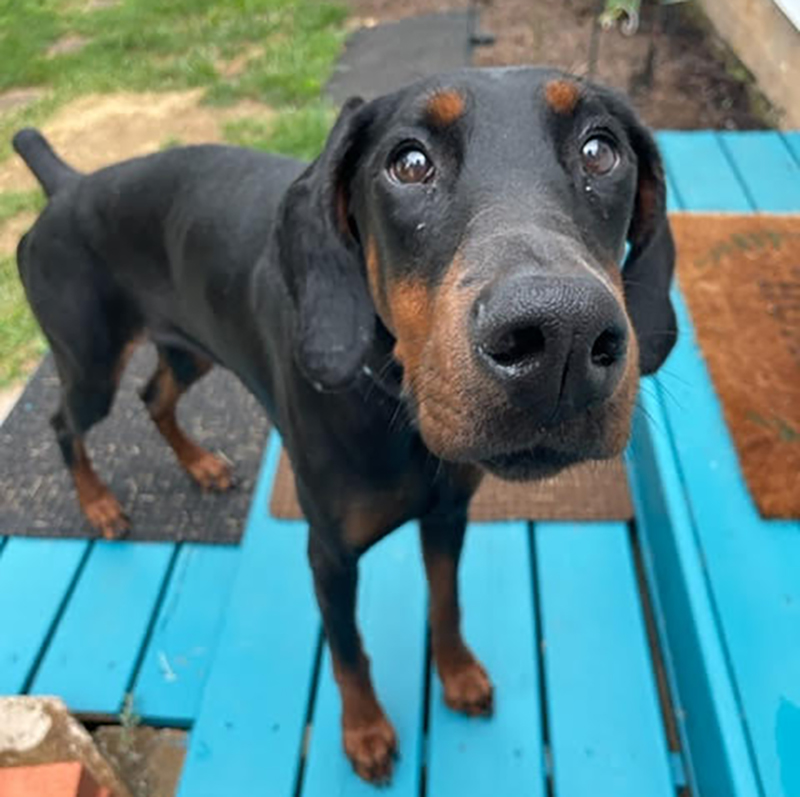 About Kobi
Kobi is a beautiful two-year-old black and mahogany female with long legs, natural ears, and a docked tail. She is currently close to 60 pounds (Should be 70-75lbs). She is hard to resist when she looks at you with her soft, sweet eyes. She loves to give gentle kisses. She is a true Velcro Doberman; I have not had a minute alone since she has gotten used to her surroundings. She loves all people and soaking in their attention. She also loves her alone time and prefers the bed beside her crate in her room to relax and sleep to hanging with my dogs. She likes to find little cubbies to get into. She gets along well with the other dogs but sometimes plays too rough. I would not recommend a home with smaller dogs or alpha females. She is unknown with children and cats, but has zero interest in rabbits, squirrels, and birds in the yard.
She's fairly quiet and barks appropriately, not at every little thing. She is good with going in the crate and staying there but will cry for a little bit when you leave. She is also an escape artist who needs locks on her crate. Kobi will need continued training on house and leash manners. She has improved on accidents in the house. She will sometimes try to chew on the corner of a table or piece of furniture. Extra exercise helps with her boredom. Kobi needs a lot of leash training. She is great in the car though. 
Kobi is a curious, smart girl that continues to explore her surroundings and boundaries, as she gets more and more comfortable. She doesn't really show an interest in toys, she will take them and then leave them. She doesn't know how to play with a ball.  She does like a stuffed Kong when she is in the crate and is food motivated. Kobi will really thrive once she gets her own new home and gets used to your routine. Her silly, goofy, loving, personality continues to come out as she gets more settled in her foster home. Your love and continued training will reward you with an amazing girl. She is ready for her very own new home.
This is My Story
Kobi found herself needing DAR&E to find her a new home.
---
DAR&E only places within the Maryland, Virginia, Washington DC, Delaware, and in portions of both eastern West Virginia and southern Pennsylvania. Please do no apply to adopt if you live outside of those areas. Please visit our Adoption Process page for additional information on adopting one of our DAR&E Dobermans & an online application!
Our dogs are spayed/neutered, up-to-date on shots and microchipped.
How You Can Help Kobi
A Tax deductible sponsorship gifts of any amount are welcome in support of our orphans.
DAR&E Wear
$15
Step 1 on the road to a forever home is a collar and tag. DAR&E dogs always have a home with us. Support a dog on its first steps by sponsoring the purchase of their collar and tag.
SPONSORS

All sponsorship donations are tax deductible and will be used to care for and for medical treatment for dogs in DAR&E's care. You can sponsor multiple dogs.