Hi, I'm Loki
Status: available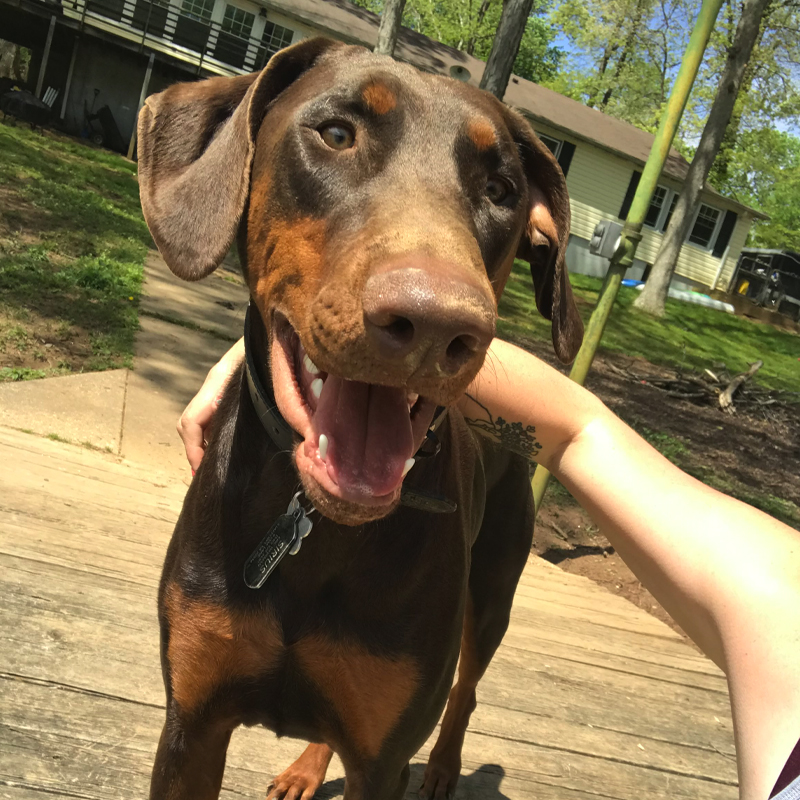 About Loki
Loki is a big and beautiful, 2 year old red boy weighing approximately 100 pounds.  He is house-trained and always wants to be with you.  He is a very loving and sweet dog.  He is extremely easy to walk and rarely pulls unless he sees another animal (squirrel etc.). He loves bones to chew on.  He is not destructive but does carry your clothes to his bed.  He is slowly being introduced to two young female Dobermans and he is doing very well.  He did have some difficulties with his male littermate.  He will let you know when someone is outside your house and will welcome them if you let them in.  Loki only wants to love and be loved.  Loki would be a great best friend to whoever is lucky enough to adopt him. 
This is My Story
---
DAR&E only places within the Maryland, DC, West Virginia and Virginia area. Please do no apply to adopt if you live outside of those areas. Please visit our Adoption Process page for additional information on adopting one of our DAR&E Dobermans & an online application!
Our dogs are spayed/neutered, up-to-date on shots and microchipped.
How You Can Help Loki
A Tax deductible sponsorship gifts of any amount are welcome in support of our orphans.
DAR&E Wear
$15
Step 1 on the road to a forever home is a collar and tag. DAR&E dogs always have a home with us. Support a dog on its first steps by sponsoring the purchase of their collar and tag.
SPONSORS

All sponsorship donations are tax deductible and will be used to care for and for medical treatment for dogs in DAR&E's care. You can sponsor multiple dogs.