Hi, I'm Loki
Status: adopted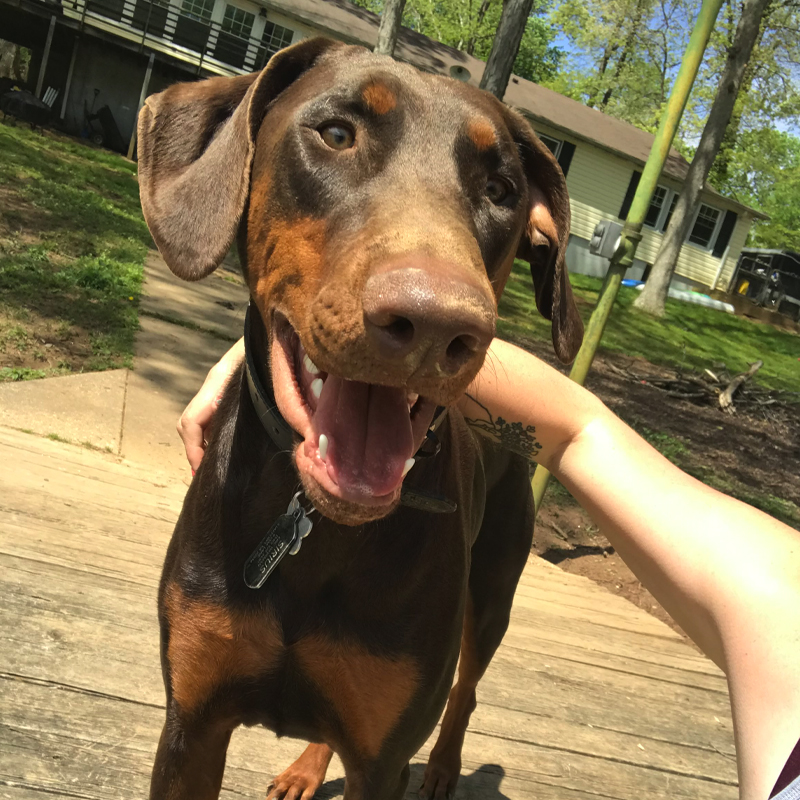 About Loki
Loki is a two year old big and beautiful red boy weighing 95 pounds. He is house-trained and always wants to be with you. Loki is usually easy to walk unless he sees another animal. He lets you know when someone is outside. It takes Loki a while to warm up to and trust visitors. Loki loves to eat and will take food off of countertops if you don't watch him. He loves to play with the two female Dobermans he is staying with but they can play hard and rough. Loki enjoys the yard. Loki is a very loving and sweet boy after he learns to trust you. He loves to chew on bones and to have his back scratched. Loki would do best with experienced Doberman owners, a fenced in yard, and as an only dog or with a large female dog.
This is My Story
---
DAR&E only places within the Maryland, Virginia, Washington DC, Delaware, and in portions of both eastern West Virginia and southern Pennsylvania. Please do no apply to adopt if you live outside of those areas. Please visit our Adoption Process page for additional information on adopting one of our DAR&E Dobermans & an online application!
Our dogs are spayed/neutered, up-to-date on shots and microchipped.
How You Can Help Loki
A Tax deductible sponsorship gifts of any amount are welcome in support of our orphans.
DAR&E Wear
$15
Step 1 on the road to a forever home is a collar and tag. DAR&E dogs always have a home with us. Support a dog on its first steps by sponsoring the purchase of their collar and tag.
SPONSORS

All sponsorship donations are tax deductible and will be used to care for and for medical treatment for dogs in DAR&E's care. You can sponsor multiple dogs.