Hi, I'm Lorelai
Status: adopted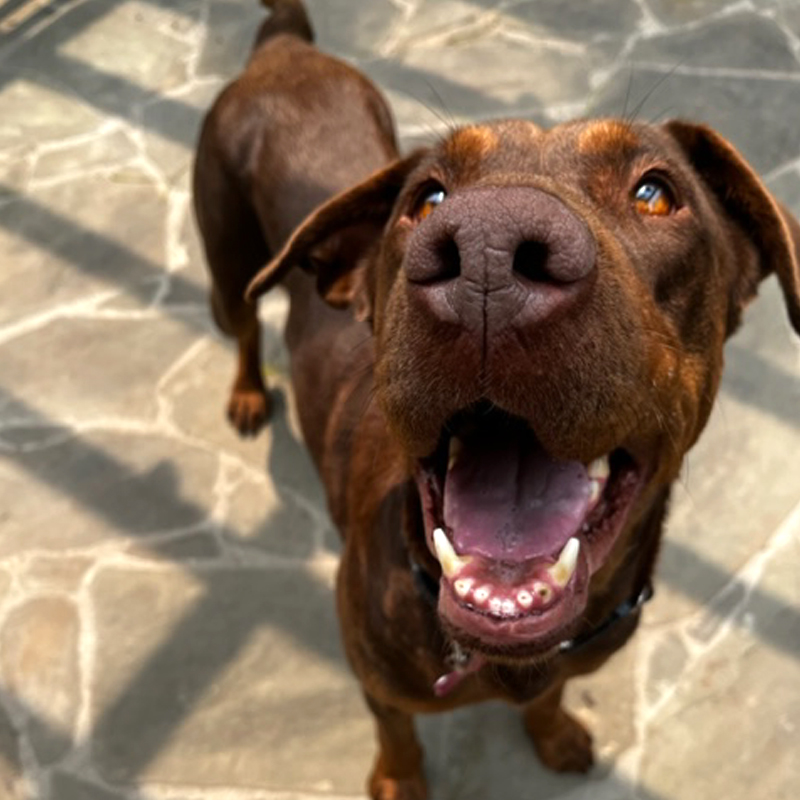 About Lorelai
Meet lovely Lorelai. An adorable Doberman/Labrador mix with soft floppy ears you can't help rubbing and a long tail that never stops wagging. Lorelai was found as a stray. She is estimated to be 3-5 years old. It's clear she did not have an easy life and could possibly have been abused, but she couldn't be any sweeter. She's looking for a home that will give her all the love and comfort she deserves because, literally, that's all she wants.
It is a pleasure to walk Lorelai. She does very well on a leash. She walks at your pace, whether that's a mosey or a speed walk. She never pulls. She is interested in squirrels and bunnies but doesn't go crazy when she sees one. Loud noises do not bother her. She loves to greet people on a walk or when they come to the house for a visit. She is very food-motivated and will counter-surf if given the opportunity. She does not know basic commands, but as she is such a laid-back, easy-going lady, she is well-behaved. Most of her time is spent following her person around, and napping when you finally stay in one place. She is 110% lapdog and wants to be as close to you as possible.
When left alone, she should be crated until you get to know her. She gets into anything that smells like food. She is good for up to 7-8 hours without a potty break and never has accidents in the house. As you get to know her and trust her, she will be ok out of the crate when alone, but you will have to do some dog-proofing. At night she likes to sleep next to her person and she loves to stretch out. She rides well in the car and waits politely at the front door until you open it. She doesn't show interest in toys but absolutely loves treats, digestible chew bones, and a peanut butter-filled Kong. It is
unknown how Lorelai would be living with another dog. She has not had that experience in foster care. Greeting other dogs has been unpredictable. Some she likes, will sniff hello, then walk away. Others she will sniff, then decide she doesn't like them and growl.
Everything with Lorelai takes time. Given her docile nature, she should be able to overcome it with your patience. We don't know what she's had to deal with in her life. She would do well living with a cat given some time. This has been proven.
Lorelai loves long walks, lots of belly rubs, snuggling, and especially car rides.
If you can give her these simple things, she'll love you unconditionally. Lorelai is in Virginia.
This is My Story
Lorelai was found as a stray and needs DAR&E to find her a new home.
---
DAR&E only places within the Maryland, Virginia, Washington DC, Delaware, and in portions of both eastern West Virginia and southern Pennsylvania. Please do no apply to adopt if you live outside of those areas. Please visit our Adoption Process page for additional information on adopting one of our DAR&E Dobermans & an online application!
Our dogs are spayed/neutered, up-to-date on shots and microchipped.
How You Can Help Lorelai
A Tax deductible sponsorship gifts of any amount are welcome in support of our orphans.
DAR&E Wear
$15
Step 1 on the road to a forever home is a collar and tag. DAR&E dogs always have a home with us. Support a dog on its first steps by sponsoring the purchase of their collar and tag.
SPONSORS

All sponsorship donations are tax deductible and will be used to care for and for medical treatment for dogs in DAR&E's care. You can sponsor multiple dogs.