Hi, I'm Luna 2
Status: available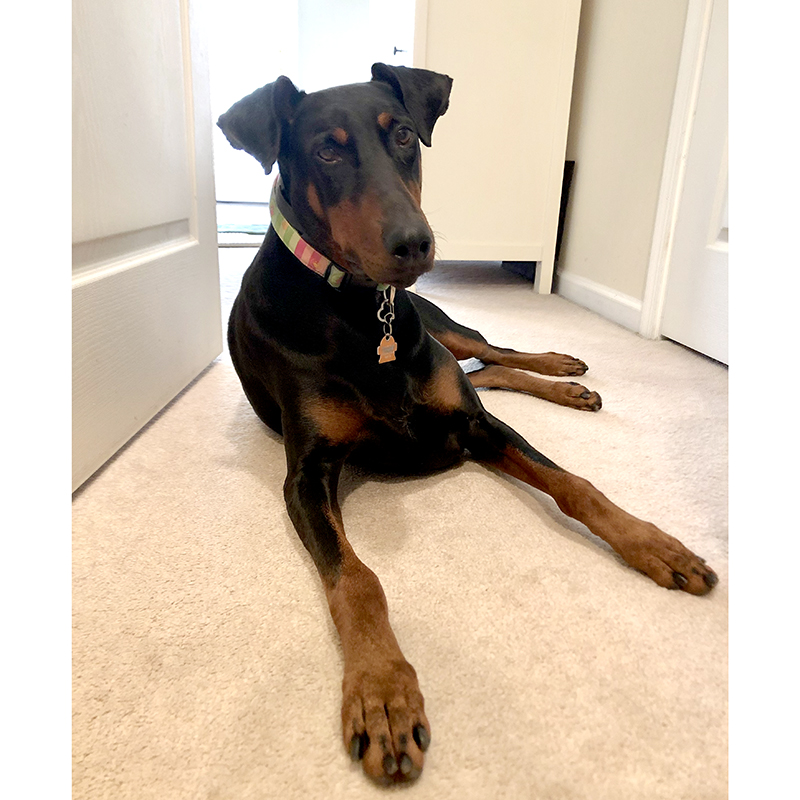 About Luna 2
Luna is a 5 year old female Doberman with natural ears and a docked tail.  Luna came from a situation where she wasn't treated well so she is a bit timid and fearful of new people at first.  She needs a calm home environment where she will be treated with kindness so she can come out of her shell.  Once she is comfortable she enjoys giving kisses and turning her rear end to you for bum scratches like so many Dobermans do.  Luna is crate trained and happily goes into her crate when you open the door.  When it is time to come out of the crate she gets nervous so she will need a family that can be patient and work with her on this.
Luna is a smart girl and previously lived with a family that sent her to training so she knows commands such as sit, down, come, place and paw.  She will alert you to people and/or animals outside the window but is quickly learning "enough" means she needs to stop barking.  Luna walks very nicely on a leash.  She can have some mild reactivity when she sees another dog but a leash correction and "leave it" is all she needs to settle her.
Luna is working on shedding a few pounds so her new family will need to continue to help her with that.  She would love a big backyard to run and play in to get and stay fit and healthy!
Luna has a high prey drive so she will need a family with no cats or small dogs.  She is currently being fostered with a male Doberman and is starting to warm up to him.  She may do well with another medium or large dog that is on the calmer side.
If you have questions about Luna or would like to meet her contact DAR&E today.
This is My Story
Luna came from a situation where she wasn't treated well and now DAR&E is trying to find her a new home.
---
DAR&E only places within the Maryland, DC, West Virginia and Virginia area. Please do no apply to adopt if you live outside of those areas. Please visit our Adoption Process page for additional information on adopting one of our DAR&E Dobermans & an online application!
Our dogs are spayed/neutered, up-to-date on shots and microchipped.
How You Can Help Luna 2
A Tax deductible sponsorship gifts of any amount are welcome in support of our orphans.
DAR&E Wear
$15
Step 1 on the road to a forever home is a collar and tag. DAR&E dogs always have a home with us. Support a dog on its first steps by sponsoring the purchase of their collar and tag.
SPONSORS

All sponsorship donations are tax deductible and will be used to care for and for medical treatment for dogs in DAR&E's care. You can sponsor multiple dogs.