Hi, I'm Luna
Status: available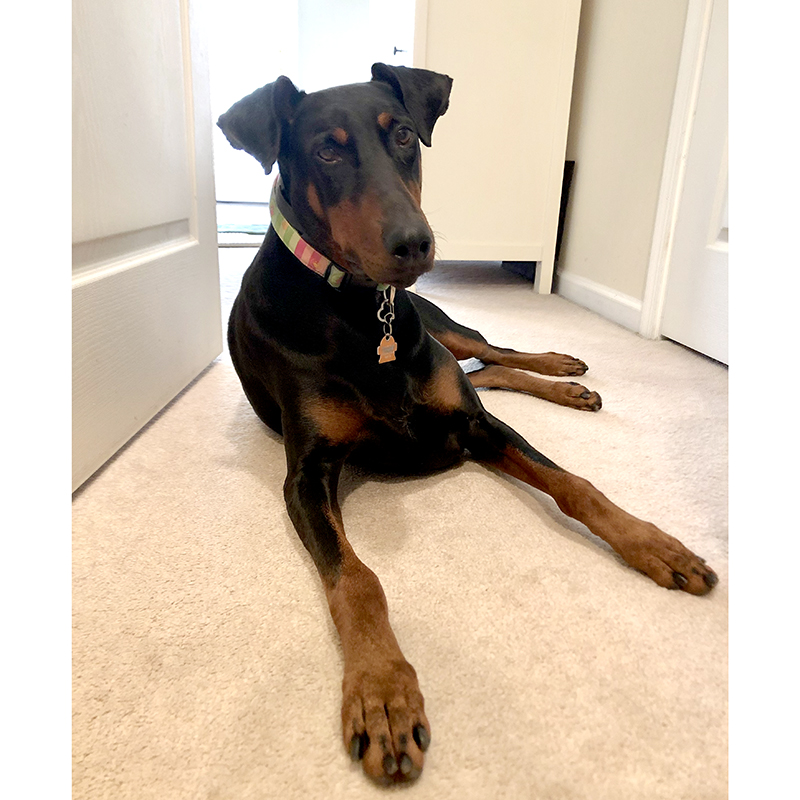 About Luna
Hi, my name is Luna.  I am a shy, petite, active six-year-old lady.  My natural ears add character to my stunning personality.  I have sad eyes and there is an untold story behind them.   I weigh around 50 pounds but don't let my size fool you; my bark is double my size! 
I have to be honest and tell you that I have trust issues.  When I meet new people, I am very shy.  I may cower when you talk to me to protect myself from past memories.   So, I may be a bit anxious when we meet. Likewise, initially I like to eat alone.  However, once I warm up to you, I don't mind company when eating.  Once I know you are gentle hearted and patient, I am your best friend.
I keep myself busy during the day.  I monitor the house from all sides and windows and will alert you to any pups walking the streets.  Mostly though, I just enjoy looking out the window or sunbathing on the deck.  I prefer to be your only pup but I am ok with other pups as companions, it may take three or four days before I decide to play with them.
I follow commands though sometimes unwillingly.  I am a bit stubborn.  You can always motivate me with treats!  If I am scared though, I will cower and may leak on the floor.  I am very healthy and prefer a harness to a neck collar.  I am sensitive to the collar from a past neck injury.  I like Vitamin E or Fish Oil tablets daily and putting coconut oil on my ears stops them from scabbing.
 The thing I like most is consistency.  Once I know the routine, I am very adaptable.  I will stay in my room at night without a gate. I do prefer a room to the crate but I am crate trained and will go in it with a little persuasion. I will allow you to sleep in, within limits.  I enjoy playing with my stuff animal but not too big on playing with a ball.  I will steal the ball if my companion really likes it, though.  I walk very well on a leash but when I see a four-legged cousin I will pull towards them and may act a fool.  If I walk when there is little to no activity you will really enjoy the walk.
I will need a fenced-yard and a quiet home which also has no children under 15 regularly visiting.
So, do you think we can be friends? Contact DAR&E today.
This is My Story
Luna came from a situation where she wasn't treated well and now DAR&E is trying to find her a new home.
---
DAR&E only places within the Maryland, DC, West Virginia and Virginia area. Please do no apply to adopt if you live outside of those areas. Please visit our Adoption Process page for additional information on adopting one of our DAR&E Dobermans & an online application!
Our dogs are spayed/neutered, up-to-date on shots and microchipped.
How You Can Help Luna
A Tax deductible sponsorship gifts of any amount are welcome in support of our orphans.
DAR&E Wear
$15
Step 1 on the road to a forever home is a collar and tag. DAR&E dogs always have a home with us. Support a dog on its first steps by sponsoring the purchase of their collar and tag.
SPONSORS

All sponsorship donations are tax deductible and will be used to care for and for medical treatment for dogs in DAR&E's care. You can sponsor multiple dogs.