Hi, I'm Luna
Status: adopted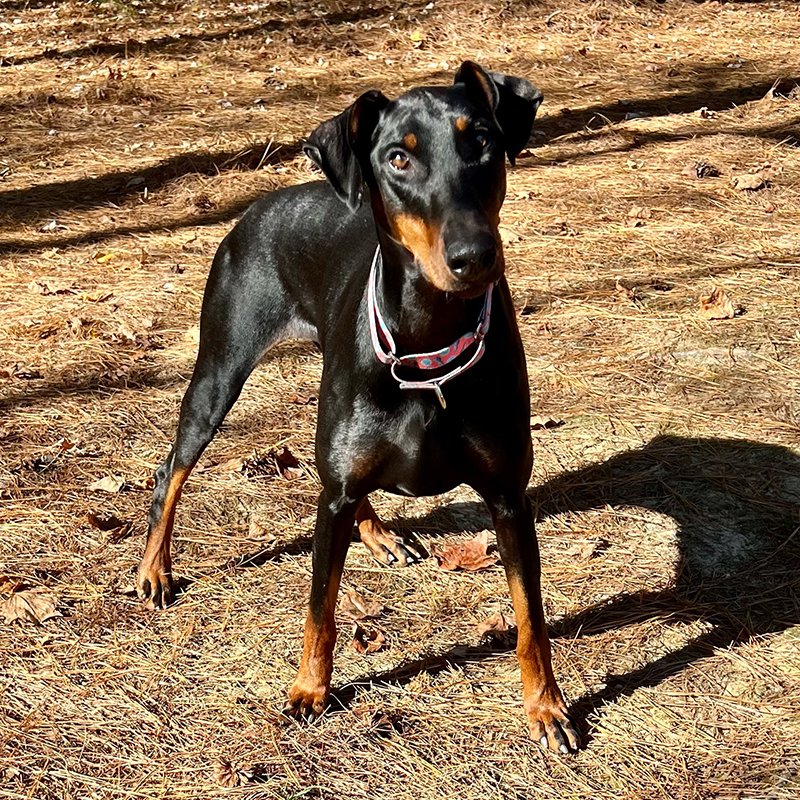 About Luna
Luna is a 2-year-old, black and tan, spayed female with natural ears. Luna is very friendly and loves all attention, and playing with her toys. She has met so many new people since she's been in foster care and has loved meeting them all. Luna rides well in the car, settling in the backseat, and rides twice daily.
Luna is perfect, shiny, 69 lbs, and knows some basic commands. She has good house/crate manners and is friendly with other animals. Luna lived with 2 large/medium-sized dogs and 3 cats in her past home. You can tell she was a well-loved, cherished member of her former family.
Currently, she's in foster care with a small dog and a cat. While she is supervised around them, she's been very gentle and tolerant of both. Luna does have a lot of energy that needs a proper outlet, so she would probably prefer a medium to large boisterous doggie friend for playtime.
She enjoys spending her days by walking in nature (so much to sniff and she loves a good exploring session), chewing on Yak milk sticks, nylabones, and anything fun and safe(no stuffies, they don't last around her). Luna spends a half day crated, (home alone), and then accompanies her foster mom to a half day at the office.
Because of her age and her active nature, Luna does best if she has at least 2 good walks or active play sessions daily. Luna isn't just all energy though, she gives gentle kisses and she loves to settle down and snuggle with you. Sometimes she thinks she can fit in your lap, but please don't hold that against her.
She is currently working on learning to not jump when she's over-excited and Luna is making great progress here. You do need to keep your counters clear of human/pet food or she will help herself. We have seen great improvement here within a few days, under the guidance of an all-positive method dog trainer. Luna is very treat and food motivated and also very smart. She will love to learn whatever you continue to teach her.
We've seen Luna's protective side come out with a big bark when a strange car pulled into the driveway. She is not overly vocal, so if you hear her bark, you know there's a reason. She will follow you while you attend to daily household chores, but as she settles in, this behavior has diminished.  Luna enjoys patrolling and sniffing everything in the huge, wooded yard in her foster home.
All in all, Luna is a lovely young Doberman who has wonderful qualities we love about the breed. Luna has the most precious Dobie-lean and she shows you when she meets new people and is enjoying being petted. Please inquire if you are interested in adding this precious Dober-girl to your family.
This is My Story
Luna family was divorcing, and asked DARE to find her a new forever home.
---
DAR&E only places within the Maryland, Virginia, Washington DC, Delaware, and in portions of both eastern West Virginia and southern Pennsylvania. Please do no apply to adopt if you live outside of those areas. Please visit our Adoption Process page for additional information on adopting one of our DAR&E Dobermans & an online application!
Our dogs are spayed/neutered, up-to-date on shots and microchipped.
How You Can Help Luna
A Tax deductible sponsorship gifts of any amount are welcome in support of our orphans.
DAR&E Wear
$15
Step 1 on the road to a forever home is a collar and tag. DAR&E dogs always have a home with us. Support a dog on its first steps by sponsoring the purchase of their collar and tag.
SPONSORS

All sponsorship donations are tax deductible and will be used to care for and for medical treatment for dogs in DAR&E's care. You can sponsor multiple dogs.