Hi, I'm Luna
Status: adopted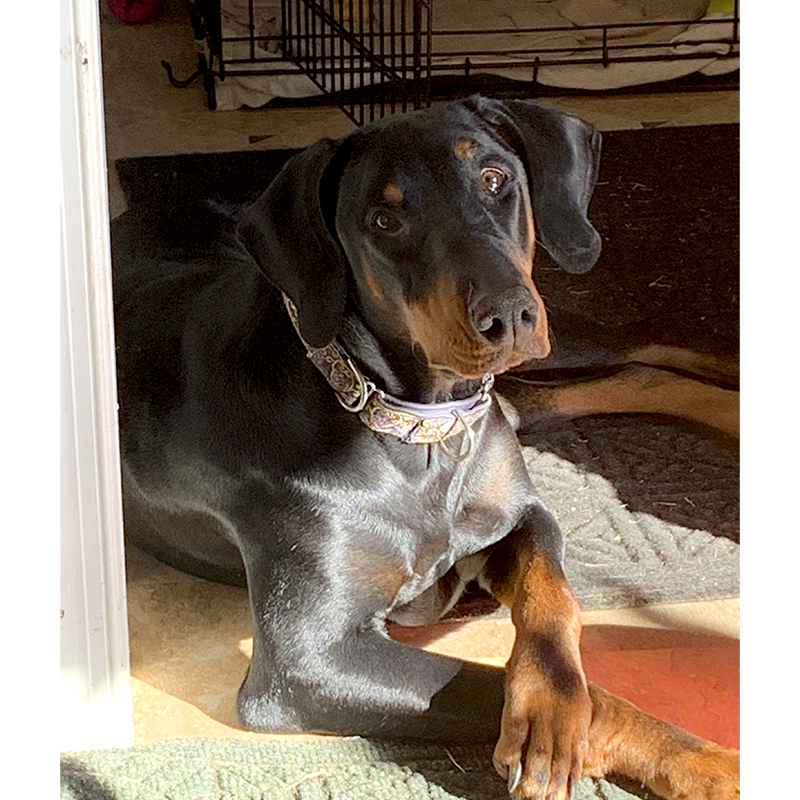 About Luna
Meet Lovely Luna!!  Luna is a very sweet puppy.  She may not look like a puppy, but her mind is still very puppy.  Luna is 16 months old. Her birthday is 11/06/2019.  Luna is black/tan with natural ears and a docked tail. Luna was pretty chubby when she came to us. She has lost weight but needs to shed a few more lbs. Luna has the sturdier build of euro style Dobermans. She currently weighs about 77 lbs. 
Luna came to DAR&E because she affected her family's allergies. She was very scared at first. Due to COVID, she had not been around many people besides her family and had not been around any other animals. She hid around the corner in our mudroom the first day and would not eat for several days, but as soon as she got brave and asked to be petted she immediately blossomed into a happy, loving total wiggle butt.  To see her with us now, you would never imagine that she was ever afraid. She is going to be timid with new people and new places at first, but it doesn't take her long to adjust. You just need to be patient with her. Luna loves attention and loves to play. She can be very pushy about getting attention, but she also is very good about leaving you alone if you ignore her for a minute or 2. She gets the hint and will play with her toys or take a nap. 
Here is a video of Luna playing:
As you can see, Luna doesn't fetch very well. Luna likes to try to get us to play tug a war or keep away with her. She makes those cute "growly" sounds when she plays. Luna is a very sweet, fun dog who really needs someone who has a lot of time for her and will play with her and take her places so she can catch up on her socialization.  She just wants to be loved.
Luna is used to being crated and uses her crate as her lounging place. We just leave the door open, and she goes in when she wants to. She will go to her crate at night when she is ready for bed. We have not been shutting her in her crate except at night. She is very good about not getting into things when we leave her baby gated in our kitchen/breakfast nook area. Luna has very limited experience with other dogs. I think she will be good with other dogs, but she needs someone who will take it slow with her while she learns what other dogs are all about.  Luna is not good with cats. She rides well in the car. Luna is well house-trained and knows various commands: Sit, stay, here (actually its "hier," the German word for "come").  Her owner taught her commands in German. I have kept up some of them. She doesn't come to "come" but she will come to "here Luna". Luna likes being outside so it would be nice for her to have fenced yard so she can explore and sun herself outside.
If you have time, patience and energy for a big lovable puppy, email me so we can explore whether Luna is a match for you.
This is My Story
---
DAR&E only places within the Maryland, Virginia, Washington DC, Delaware, and in portions of both eastern West Virginia and southern Pennsylvania. Please do no apply to adopt if you live outside of those areas. Please visit our Adoption Process page for additional information on adopting one of our DAR&E Dobermans & an online application!
Our dogs are spayed/neutered, up-to-date on shots and microchipped.
How You Can Help Luna
A Tax deductible sponsorship gifts of any amount are welcome in support of our orphans.
DAR&E Wear
$15
Step 1 on the road to a forever home is a collar and tag. DAR&E dogs always have a home with us. Support a dog on its first steps by sponsoring the purchase of their collar and tag.
SPONSORS

All sponsorship donations are tax deductible and will be used to care for and for medical treatment for dogs in DAR&E's care. You can sponsor multiple dogs.