Hi, I'm Macie
Status: adopted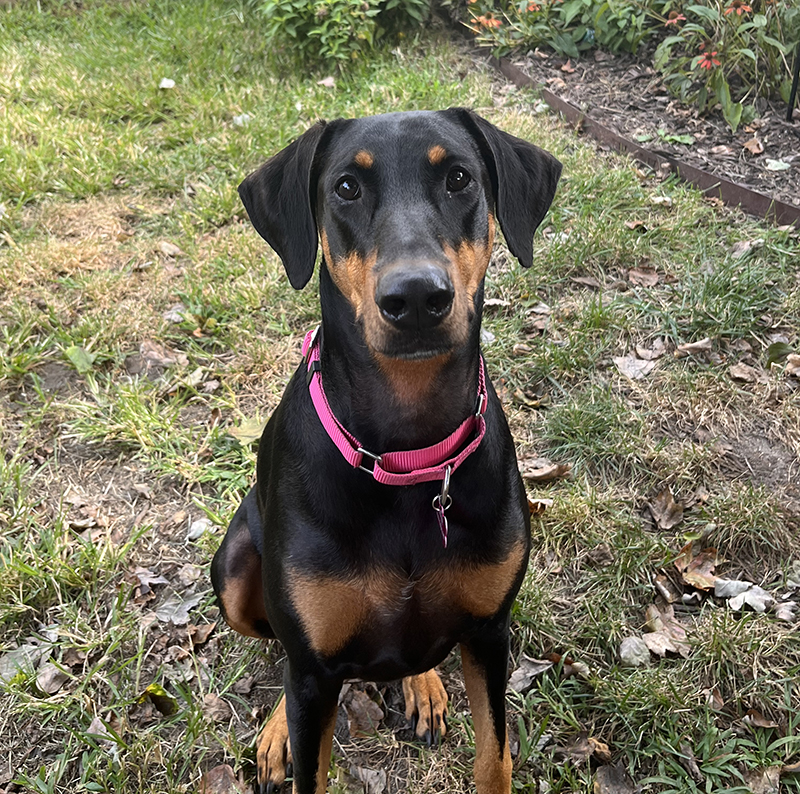 About Macie
Ms. Macie is a 2 year old (DOB 5/8/2020), black and tan, 78 lb, docked, natural eared dobie girl.  She is going to make a wonderful addition to your family.  She has the perfect amount of energy for a 2 year old and she loves to go on walks and is pretty good on the leash but she will need a bit of continued work on her leash skills.  She would make a great jogging partner if your looking for one.
Macie knows sit, down, give paw, and will wait for her food until you give her the okay command.  She is smart so she can learn anything you throw at her.  She does great with both the large dogs and small dogs she has met so far and loves to play. In her previous home she did go to daycare and her previous owner said that she did well there with the other dogs.  She listens to corrections from other dogs well which was definitely shown when she was playing with a corgi and the corgi was finished and told Macie that playtime was over.  Macie just walked away and moved on to play with another dog.  Not sure how she will do with cats, she has never lived with one.  Given her personality she MAY be okay with a dog savvy cat.
Macie loves her people and likes to be where they are, although she doesn't love small spaces so you can at least get some alone time in the bathroom.  She loves our 16 year old son, and loved her previous owners teenagers as well so bring on the teenagers if you have them!
Macie is crate trained (some bribing may be involved to get her in) but when she's in her crate she just lays and sleeps. She is house-trained, although rain is her nemesis (she's so sweet she will melt if she gets wet) so she needs a little more coaxing to go out and potty.  At night, Macie sleeps on a dog bed in our bedroom and sleeps through the night.  She has not tried to get on our furniture, though she does like to try to get on the beds but she always jumps off with a simple "off" correction. 
Macie loves playing with her toys and likes to destuff stuffed animals, play tug of war with her ropes toys, and chew on nyla bone and bully sticks.  She has not tried to chew on anything in the house that was not hers and she will sniff the kitchen counters but has not tried to take anything off them.
Macie is okay in the car, she will lay down or sit for the ride but will whine for a while.  With a lot of fun car rides going to fun places she should get even more comfortable in the car.  Macie's new family will need to help her build her confidence by showing her new experiences and exposing her to new situations.  She's already a really lovely dog and these new exposures will only help Macie reach her maximum potential.
This is My Story
Macie came into DAR&E through no fault of her own.  Her previous owners did not have time for her and were not able to give her the time that she deserves so they may the difficult decision to surrender her to DAR&E so that she can find a family that give her all the love in the world.
---
DAR&E only places within the Maryland, Virginia, Washington DC, Delaware, and in portions of both eastern West Virginia and southern Pennsylvania. Please do no apply to adopt if you live outside of those areas. Please visit our Adoption Process page for additional information on adopting one of our DAR&E Dobermans & an online application!
Our dogs are spayed/neutered, up-to-date on shots and microchipped.
How You Can Help Macie
A Tax deductible sponsorship gifts of any amount are welcome in support of our orphans.
DAR&E Wear
$15
Step 1 on the road to a forever home is a collar and tag. DAR&E dogs always have a home with us. Support a dog on its first steps by sponsoring the purchase of their collar and tag.
SPONSORS

All sponsorship donations are tax deductible and will be used to care for and for medical treatment for dogs in DAR&E's care. You can sponsor multiple dogs.