Hi, I'm Maleficent
Status: adopted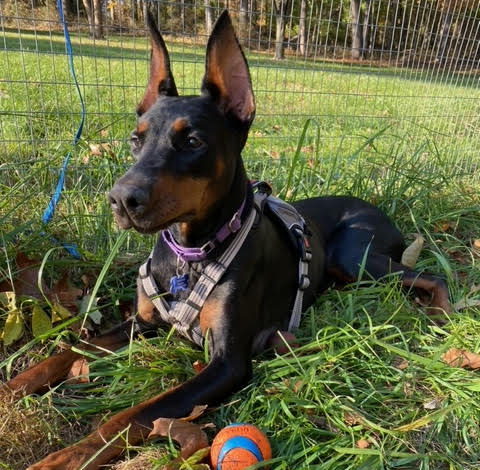 About Maleficent
Meet Maleficent. She is 3 years old, black/tan, cropped ears, docked tail. Don't let the name keep you from adopting this super sweet girl. Her name will grow on you, is actually fun to say, and she does answer to it. Maleficent just wants to be with you and will follow you everywhere in the house. She has no concept of personal space. She's a wannabe lap dog who loves to snuggle and give hugs and kisses. She can't stand not getting all your attention. She will look you right in the eyes and stare as if she's looking deep into your soul. You won't be able to resist falling madly in love with her.
Maleficent is not a city gal. She gets very anxious at the sounds of people talking outside, dogs barking nearby, and car doors slamming. After a little weekend vacation, seeing her relaxed, calm, and focused, she is most certainly a country dog. She must be the only dog in her new home and ideally live where she won't run into other dogs in the neighborhood. She is dog reactive. It would be wonderful if someone could get her to the point where she sees another dog and ignores them. This may take some work, but she's very intelligent. She's highly food-motivated and learns quickly. She knows basic commands. Like a baby, she loves a bedtime routine.
Her favorite toys are ropes and balls of all sizes and textures. She can almost always be found walking around with a ball in her mouth. Her ideal home has a large, fenced-in yard where she can run. Her favorite activity is playing fetch outside and she actually brings the ball back and will put it right in your hand. It's fun to watch the sheer joy she has for fetching a ball.


She shouldn't be left alone outside until you get to know her. We were told that in a previous home she climbed a 6′ fence to get to the dog on the other side. With no other dogs around, this may not be an issue. An electric/underground fence may not keep her in.
We do not crate Maleficent when we are out of the house. It's not necessary because she is not destructive and will just lie on the coach waiting for you to return. If you do go out for a while, she enjoys being distracted with a Kong filled with a treat or peanut butter.
Maleficent would be a great addition to your family. She's not perfect, just perfectly loveable.
Here is a short clip of her in motion.

If you are interested in Maleficent, contact DAR&E today.
This is My Story
Maleficent found herself needing DAR&E to find her a new home.
---
DAR&E only places within the Maryland, Virginia, Washington DC, Delaware, and in portions of both eastern West Virginia and southern Pennsylvania. Please do no apply to adopt if you live outside of those areas. Please visit our Adoption Process page for additional information on adopting one of our DAR&E Dobermans & an online application!
Our dogs are spayed/neutered, up-to-date on shots and microchipped.
How You Can Help Maleficent
A Tax deductible sponsorship gifts of any amount are welcome in support of our orphans.
DAR&E Wear
$15
Step 1 on the road to a forever home is a collar and tag. DAR&E dogs always have a home with us. Support a dog on its first steps by sponsoring the purchase of their collar and tag.
SPONSORS

All sponsorship donations are tax deductible and will be used to care for and for medical treatment for dogs in DAR&E's care. You can sponsor multiple dogs.