Hi, I'm Maleficent
Status: available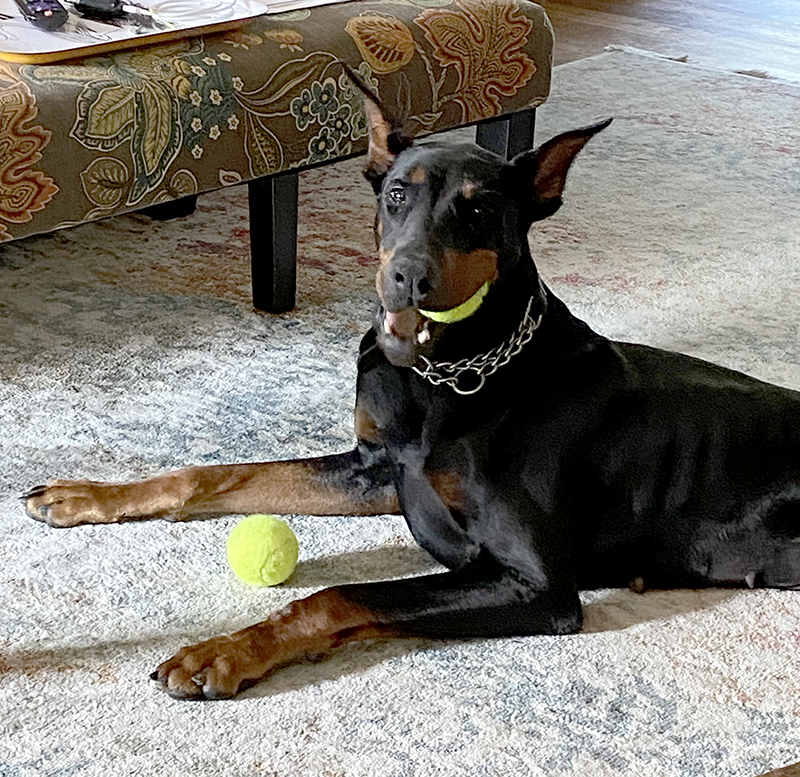 About Maleficent
Meet Maleficent, or Mal for short. She is 3 years old, black/tan, cropped ears, docked tail. Mal has that regal Doberman look. She's gorgeous! Mal may act aloof at first, but once she settles in, she is a sweetheart who just wants to play and be loved. She's a puppy at heart. Her favorite toys are ropes and balls. She will put them in your lap until you play with her. Her ideal home has a large, fenced-in yard where she can run. You must be willing to become a human ball thrower as that's her favorite activity for exercise and fun. She will keep coming back for more and more and more. She'll let you know when she's had enough. It's fun to watch the sheer joy she has for fetching a ball. She should always be supervised while outside. If there's something she wants to get to badly enough, she can and has climbed a 6′ fence. An electric/underground fence may not keep her in.
Mal knows basic commands but would benefit from some solid training. She's very intelligent and would thrive in having some structure. She's been working on leash training, using a Gentle Leader, but it is challenging as she's very stimulated outside with all the new noises and sites to see. She is showing promise. It will just take persistence. Mal does not get along with other dogs and is very reactive when she sees or hears another dog. She must be the only dog in her new home.
Here is a short clip of her in motion.

Mal loves to snuggle up with you on the couch, give you kisses, give hugs, and will likely want to sleep right up next to you in bed. She is a velcro dog and will follow you all through the house. She does not like to be scolded and will try to show you she's sorry by giving you intense puppy dog eyes and offering her paw. She was crate-trained but has decided she no longer wants to be locked up and will do everything she can to escape. No worries though, she does just fine roaming free if you give her a Kong filled with a treat or peanut butter to distract her while you leave. She's not destructive. She'll just lie on the couch and wait for you to return. She will find any food you've left within her reach, whether it's dog treats, human treats, or fish flakes. Make sure to put everything away in a closet or cabinet, so she won't be tempted while you're away.
Mal has a lick granuloma on her front leg that is almost healed. It will take some nagging from you telling her not to lick and a little at home first aid; Aquaphor and a bandage wrap have worked wonders. She even leaves the bandage in place.
Mal would be a great addition to your family. She will love you fiercely.
If you are interested in Maleficent, contact DAR&E today.
This is My Story
Maleficent found herself needing DAR&E to find her a new home.
---
DAR&E only places within the Maryland, DC, West Virginia and Virginia area. Please do no apply to adopt if you live outside of those areas. Please visit our Adoption Process page for additional information on adopting one of our DAR&E Dobermans & an online application!
Our dogs are spayed/neutered, up-to-date on shots and microchipped.
How You Can Help Maleficent
A Tax deductible sponsorship gifts of any amount are welcome in support of our orphans.
DAR&E Wear
$15
Step 1 on the road to a forever home is a collar and tag. DAR&E dogs always have a home with us. Support a dog on its first steps by sponsoring the purchase of their collar and tag.
SPONSORS

All sponsorship donations are tax deductible and will be used to care for and for medical treatment for dogs in DAR&E's care. You can sponsor multiple dogs.