Hi, I'm Maverick
Status: adopted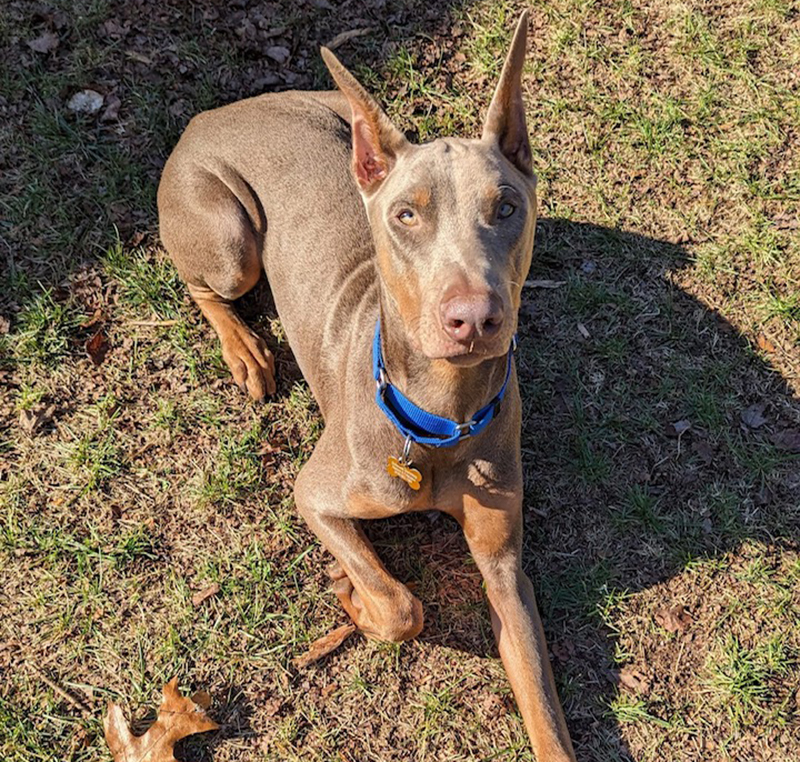 About Maverick
Maverick is an absolutely stunning cropped and docked fawn/rust boy. He is only 9 months old but is already very tall and will be a big boy when he's all done growing. Maverick is a sweet, friendly, and energetic puppy who is looking for a family that will be committed to providing him with plenty of exercise. A fenced yard is required because he is under 1 year of age. Maverick is very athletic and loves to run off leash in our backyard.
Maverick is dog friendly and very playful. He currently lives with a senior cat in his foster home but would be best suited for a cat-free home. He is a rambunctious puppy who will try to play with a cat.
Maverick is house-trained and crated trained. He lets us know when he needs to go potty by walking up to the door and pawing at it. He sleeps quietly through the night in his crate. Maverick walks well on an EasyWalk harness.
Maverick loves to play and thinks balls and squeaky toys are the best. It's easy to forget Maverick is a puppy because he is already so big, but he is definitely in the middle of going through all the normal puppy things like learning not to counter surf, jump up on people when he is really excited, or be mouthy while playing, so it's important that his family expect to work with him on developing all the best behaviors.
Maverick is a very bright and observant boy. He is adventurous and rides well in the car. He'd be the perfect addition to an active family that will shower him with love and kisses!
This is My Story
Maverick found himself needing DAR&E to find him a new home.
---
DAR&E only places within the Maryland, Virginia, Washington DC, Delaware, and in portions of both eastern West Virginia and southern Pennsylvania. Please do no apply to adopt if you live outside of those areas. Please visit our Adoption Process page for additional information on adopting one of our DAR&E Dobermans & an online application!
Our dogs are spayed/neutered, up-to-date on shots and microchipped.
How You Can Help Maverick
A Tax deductible sponsorship gifts of any amount are welcome in support of our orphans.
DAR&E Wear
$15
Step 1 on the road to a forever home is a collar and tag. DAR&E dogs always have a home with us. Support a dog on its first steps by sponsoring the purchase of their collar and tag.
SPONSORS

All sponsorship donations are tax deductible and will be used to care for and for medical treatment for dogs in DAR&E's care. You can sponsor multiple dogs.