Hi, I'm Maybelle
Status: adopted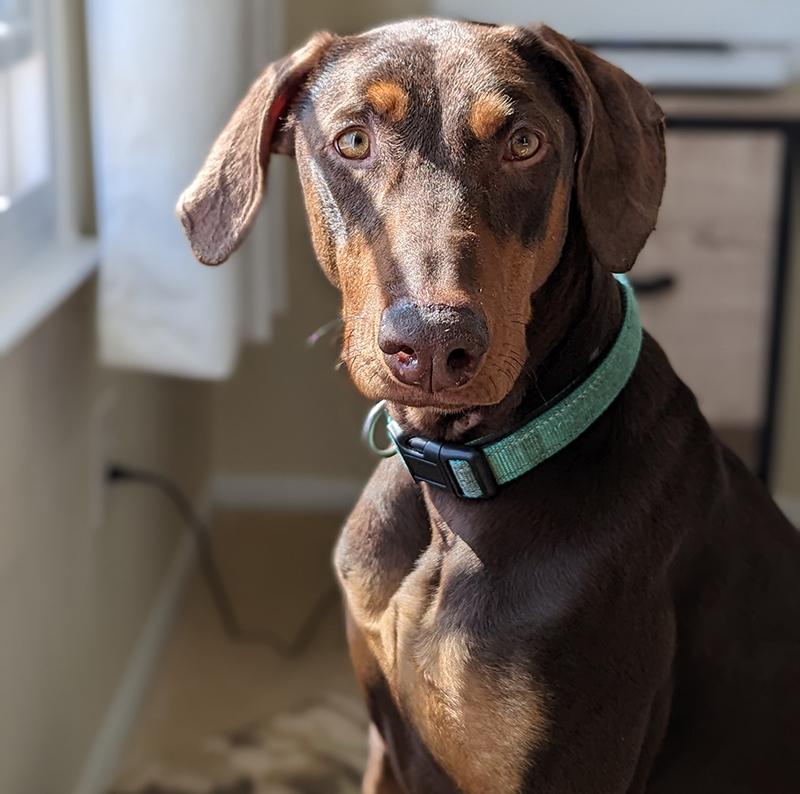 About Maybelle
Maybelle is a 1.5 year old red female Doberman with natural ears and a docked tail. She is incredibly good natured and friendly. She loves meeting people and does great with other dogs. She is a playful girl who would love a home with another dog to run and wrestle with. Maybelle has done okay with our senior male cat, she loves to try and get him to play. She does respond well to redirection from us or correction from our cat. Shy or timid cats would be overwhelmed by Maybelle's playful nature.
Maybelle is house-trained and crate-trained. She may whine when first crated, but stops after a few minutes. Maybelle has a lot of energy that we expend off leash in our fenced backyard with fetch, running and playing with our other dogs, as well as with leashed walks. Maybelle is happy to curl up quietly and nap when she's been properly exercised. If she hasn't gotten enough exercise she will whine – she's an expressive girl, a typical Doberman princess.
She is a sweet and happy girl who loves to be a part of the action in the home. She has been very welcoming to people that come into our house. Maybelle is not possessive with her resources either towards people or dogs. She is very affectionate with people and dogs and will often seek out another dog to cuddle with. 
Maybelle loves all types of toys, especially plush ones. Maybelle rides well in the car and loves going on walks. She is getting better about not pulling, but does need continued work on this. I walk her on a Harness Lead and she does well on it. She is friendly on leash and not reactive.
Maybelle is a very agile and athletic girl. While a fenced yard is not required to adopt her, she'd love a home with one because she loves to run around. Maybelle needs a family that would be able to provide her with plenty of exercise so she stays happy and mentally and physically stimulated. If you have any questions about Maybelle, please don't hesitate to reach out.
This is My Story
Maybelle found herself needing DAR&E to find her a new home.
---
DAR&E only places within the Maryland, Virginia, Washington DC, Delaware, and in portions of both eastern West Virginia and southern Pennsylvania. Please do no apply to adopt if you live outside of those areas. Please visit our Adoption Process page for additional information on adopting one of our DAR&E Dobermans & an online application!
Our dogs are spayed/neutered, up-to-date on shots and microchipped.
How You Can Help Maybelle
A Tax deductible sponsorship gifts of any amount are welcome in support of our orphans.
DAR&E Wear
$15
Step 1 on the road to a forever home is a collar and tag. DAR&E dogs always have a home with us. Support a dog on its first steps by sponsoring the purchase of their collar and tag.
SPONSORS

All sponsorship donations are tax deductible and will be used to care for and for medical treatment for dogs in DAR&E's care. You can sponsor multiple dogs.