Hi, I'm Mazikeen
Status: adopted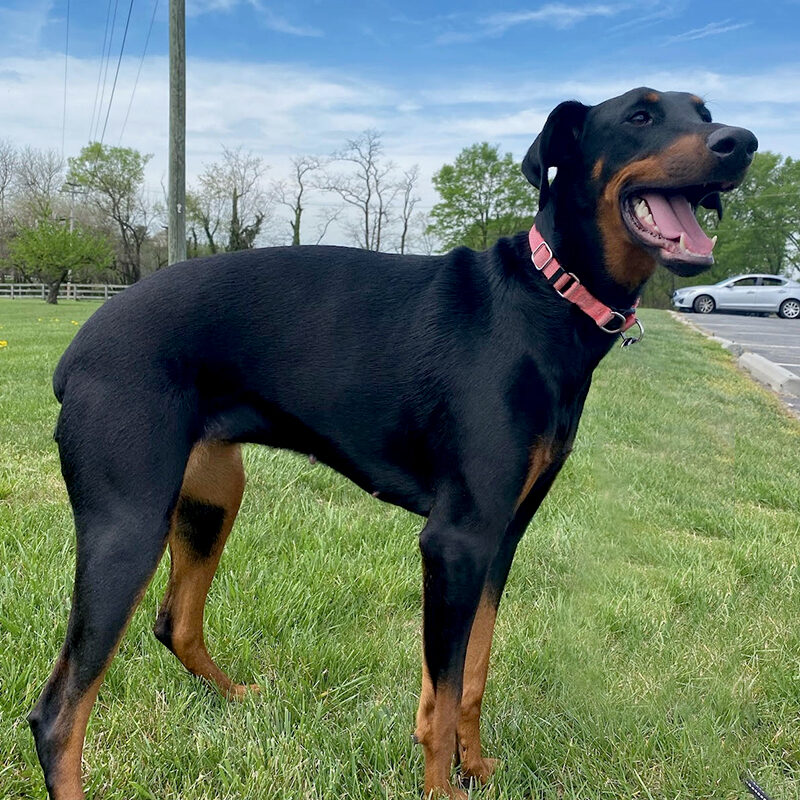 About Mazikeen
Meet Mazikeen, aka Maze or Mazi. She is 2 years old, with a docked tail and natural ears.
Maze was surrendered by her owner. She had not been outside the house for the majority of her first two years of life. Her life experiences have all happened since being rescued; the first time in a car, on a leash, going for walks, greeting other dogs, etc and she is doing amazingly well. It took her about a week to settle into her foster home and really start showing her personality and everyday that passes she shows more bravery and confidence.
Maze has lovely house manners. She does not counter surf, she doesn't care about your human food. If she bothers you while you're eating, it's you she wants, not the food. She doesn't really like dog treats all that much. She does like freeze-dried treats and small bits of cheese. She is not crate-trained, but she doesn't need to be. She lies on her dog bed or on the couch with a blanket. She has never gotten into anything when left alone. She loves to snuggle on the couch with you at the end of the day.
Maze knows the basic commands; sit, down, shake, stay, and come/here. She's very smart and learns a routine very quickly. She won't let you forget it's time to go for a walk. It's her favorite thing to do. She has discovered what she'd been missing for two years. She walks pretty well on a leash, but spends the entire walk on high alert for squirrels. She seems to have a high prey drive, so she should not live with cats or other small animals, like rabbits. She lived with a small dog in her previous home, and will greet a calm dog nicely. She will return the barking of a dog who barks at her first, but she's working on that.
Mazikeen is super affectionate and gentle. She is the lovebug you need in your life.
This is My Story
Maze was surrendered by her owner. Her owner had to move and could not take her, and asked DAR&E to find her a new home.
---
DAR&E only places within the Maryland, Virginia, Washington DC, Delaware, and in portions of both eastern West Virginia and southern Pennsylvania. Please do no apply to adopt if you live outside of those areas. Please visit our Adoption Process page for additional information on adopting one of our DAR&E Dobermans & an online application!
Our dogs are spayed/neutered, up-to-date on shots and microchipped.
How You Can Help Mazikeen
A Tax deductible sponsorship gifts of any amount are welcome in support of our orphans.
DAR&E Wear
$15
Step 1 on the road to a forever home is a collar and tag. DAR&E dogs always have a home with us. Support a dog on its first steps by sponsoring the purchase of their collar and tag.
SPONSORS

All sponsorship donations are tax deductible and will be used to care for and for medical treatment for dogs in DAR&E's care. You can sponsor multiple dogs.