Hi, I'm Milly
Status: adopted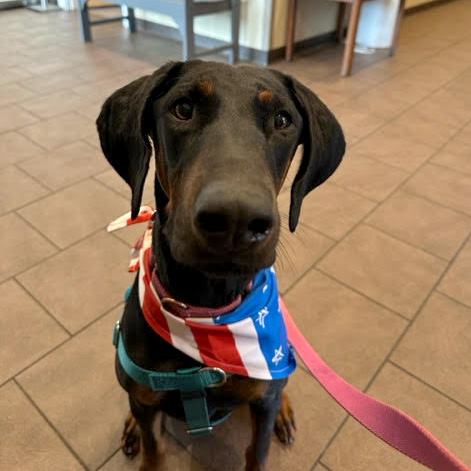 About Milly
Milly is a 12-month-old black and rust female with natural ears and a docked tail. She is a petite little lady weighing about 60 pounds and full of energy with a personality to spare. Milly is sweet and friendly, loves to play with my dogs, follows me around the house, and loves to be petted. She's a happy girl and when she wags her tail she does it with her whole body. No matter the day you've had, it will be improved by her excitement at seeing you. She has been one of the easiest foster dogs I've had.
She is crate-trained and house-trained. I've been leaving her in the crate at night and when I'm not home since she does occasionally try to unstuff the dog bed. She would probably transition to staying out of the crate with some more time and training. She stays in the crate quietly at night but does bark a little when I'm leaving then settles down quickly. She rides well and was friendly with everyone at the vet's office. She is very smart and food motivated, she settled in here within a couple of days. She loves running in the yard and is just starting to play more with toys after not paying much attention to them at first.

She still has a lot of puppy in her and has responded well to training but will need continued supervision and training. She sometimes lays down until she understands what you want. She picks up on your expectations quickly and has pretty good manners already. She will pull on the leash with a collar but does well with a harness. She is so excited to explore the world. She does well with my dogs but would be ok on her own too. I have no knowledge of her with children, cats, or other small animals. Milly is located in Virginia.
This is My Story
Milly found herself needing DAR&E to find her a new home.
---
DAR&E only places within the Maryland, Virginia, Washington DC, Delaware, and in portions of both eastern West Virginia and southern Pennsylvania. Please do no apply to adopt if you live outside of those areas. Please visit our Adoption Process page for additional information on adopting one of our DAR&E Dobermans & an online application!
Our dogs are spayed/neutered, up-to-date on shots and microchipped.
How You Can Help Milly
A Tax deductible sponsorship gifts of any amount are welcome in support of our orphans.
DAR&E Wear
$15
Step 1 on the road to a forever home is a collar and tag. DAR&E dogs always have a home with us. Support a dog on its first steps by sponsoring the purchase of their collar and tag.
SPONSORS

All sponsorship donations are tax deductible and will be used to care for and for medical treatment for dogs in DAR&E's care. You can sponsor multiple dogs.