Hi, I'm Milo
Status: adopted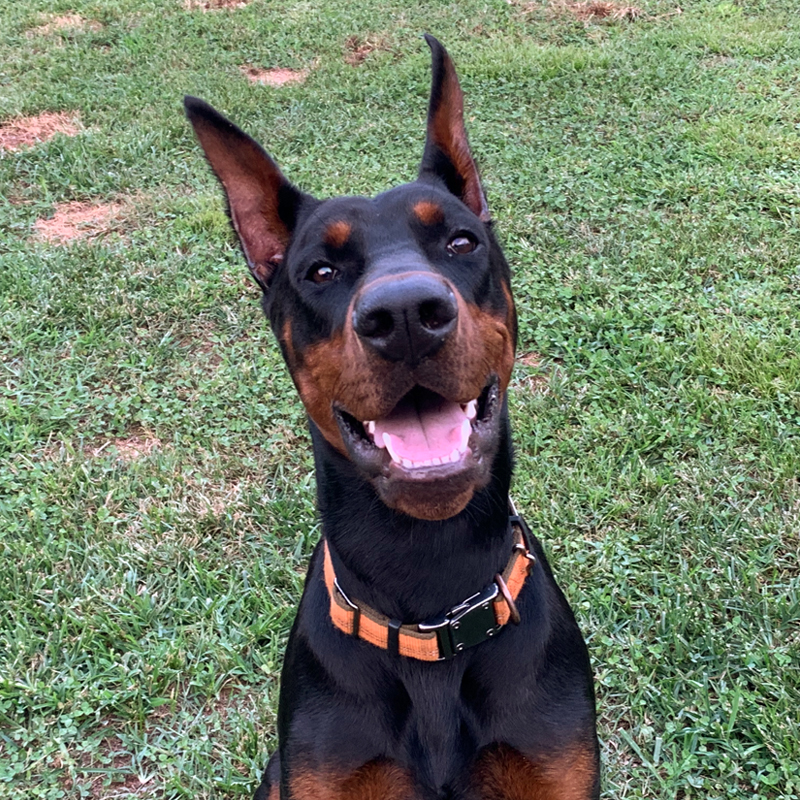 About Milo
Milo is a black/tan, cropped and docked male Doberman. Milo is a very sweet, smart boy that will steal your heart.  He is also very good looking but we try not to let that go to his head. Milo has been a much loved and well cared for pet. His owner asked DAR&E to find Milo a new home because his wife is very allergic to Milo.
Milo has gone to formal training and knows basic commands like sit, stay, wait, look, etc.
Check out his short training video:


Milo turns 1 year old in a few days so he is still very much a puppy. He weighs about 65 lbs but will fill out more as he matures. Mentally he is like a teenage boy forming his identity. Due to his young age and youthful exuberance, Milo sometimes forgets his training or gets distracted but he listens well once you establish a relationship with him and he knows you are setting the rules. His adopter should be a person who has a lot of time, energy and patience to devote to Milo. One that will give him firm, consistent guidance and sets boundaries for him so he knows what is expected of him.
Milo is a sweet boy who will do so well with someone who understands working breeds and is able to give him the physical and mental exercise that he needs. Milo hasn't lived with other dogs but has had some doggie friends. Like most dobes, he needs a few minutes to calm down when he meets new dogs.
Milo hasn't been a fan of being crated but he goes in willingly and usually quiets down in a few minutes. He is still a puppy so he should be confined when not supervised. He rides well in the car although without restraint, he may want to help you drive.  Milo has huge potential but needs work to achieve it.
If you are a working breed enthusiast, contact DAR&E to learn more about Milo.
This is My Story
His owner asked DAR&E to find Milo a new home because his wife is very allergic to Milo.
---
DAR&E only places within the Maryland, Virginia, Washington DC, Delaware, and in portions of both eastern West Virginia and southern Pennsylvania. Please do no apply to adopt if you live outside of those areas. Please visit our Adoption Process page for additional information on adopting one of our DAR&E Dobermans & an online application!
Our dogs are spayed/neutered, up-to-date on shots and microchipped.
How You Can Help Milo
A Tax deductible sponsorship gifts of any amount are welcome in support of our orphans.
DAR&E Wear
$15
Step 1 on the road to a forever home is a collar and tag. DAR&E dogs always have a home with us. Support a dog on its first steps by sponsoring the purchase of their collar and tag.
SPONSORS

All sponsorship donations are tax deductible and will be used to care for and for medical treatment for dogs in DAR&E's care. You can sponsor multiple dogs.