Hi, I'm Nala
Status: adopted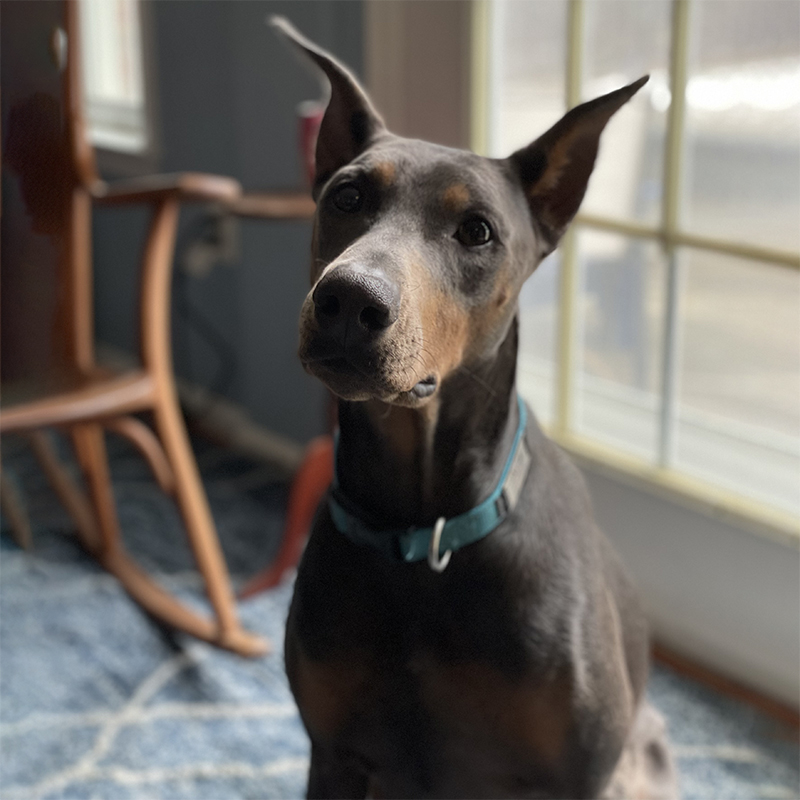 About Nala
Nala is a beautiful 3-year-old blue/tan girl who is cropped and docked. She has great coat which isn't always true of blue Dobermans. Nala has a wonderful balance of puppy playfulness and calmness and is equally happy to play endless games of fetch or sit with her family and doze with her head on your feet. Just don't stop patting her, or you'll get a friendly dober-nose poke to remind you she's there!
Nala's biggest wish is to be her family's one and only love in life. She loves having a fenced yard and will definitely need a family who can provide one so she can show off her impressive speed when chasing tennis balls. She is very friendly, and happily greets new people on walks with her rapidly wagging tail. She's strong, but does fairly well on walks if she's on a front-clip harness. Nala doesn't seem to know "heel" but she's sure to pick it up quickly with some consistent training. She knows many other commands (sit, down, shake, stay, break/okay, drop it) but the absolute cutest has to be "find your ball!" She will immediately begin her search and will bring her ball to you as soon as she's tracked it down. 
Nala is spayed and up to date on her vaccinations. She is house-broken and crate-trained, but is generally trustworthy if left alone in the house un-crated. She sleeps on a dog bed at night but will definitely sneak into your bed if she's allowed!
Like many of her breed, she is very inconsistent with other dogs, including the ones in her current home, which is why she is seeking a new family. For this reason she must be the only dog in her new home. She does love to chase, so no cats either please. 
Nala is a loving, gorgeous, bright young dog who is looking forward to meeting her new family soon!
This is My Story
Nala is very inconsistent with other dogs, including the ones in her current home, which is why she is seeking a new family.
---
DAR&E only places within the Maryland, Virginia, Washington DC, Delaware, and in portions of both eastern West Virginia and southern Pennsylvania. Please do no apply to adopt if you live outside of those areas. Please visit our Adoption Process page for additional information on adopting one of our DAR&E Dobermans & an online application!
Our dogs are spayed/neutered, up-to-date on shots and microchipped.
How You Can Help Nala
A Tax deductible sponsorship gifts of any amount are welcome in support of our orphans.
DAR&E Wear
$15
Step 1 on the road to a forever home is a collar and tag. DAR&E dogs always have a home with us. Support a dog on its first steps by sponsoring the purchase of their collar and tag.
SPONSORS

All sponsorship donations are tax deductible and will be used to care for and for medical treatment for dogs in DAR&E's care. You can sponsor multiple dogs.