Hi, I'm Neveya
Status: adopted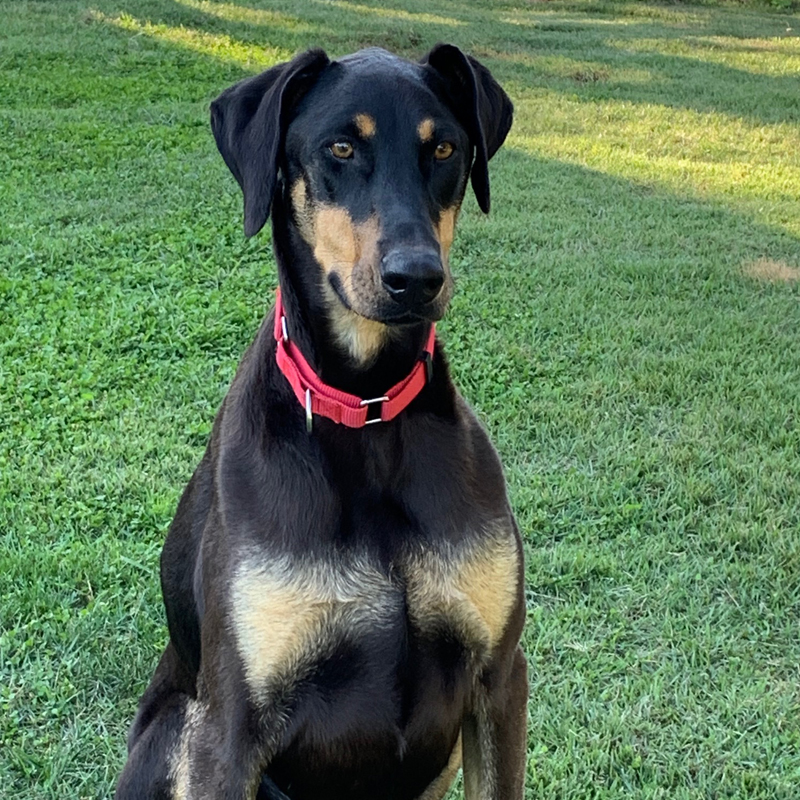 About Neveya
Meet our sweet, lovable Neveya!  She is a 6 year old black/tan female doberman. She is a tall girl weighing about 80 lbs with a docked tail and natural ears. Neveya came to DAR&E when her owner had to move to care for her elderly parents and couldn't take her. Neveya has a funny, quirky personality. She makes us laugh every day. She is a great companion who is very easy to have around. She wiggles all over out of excitement when you come home. She is well house trained and doesn't get into things. We don't crate Neveya because it's not necessary. If need be, she can be baby gated into an area. She honors boundaries very well. She loves riding in the car.  Neveya LOVES being outside so she really needs to have a fenced outdoor space. She doesn't always want to come in when called but we are working on her training. Neveya likes to be momma's little helper in the kitchen.
Check out this short video:
She will "talk" to you or try to wrap her foot around your leg if you forget to let her sample the fare! She enjoys chewing on antlers and bones and likes to eat ice cubes.
Neveya came to us very overweight due to her thyroid gland being underactive. An underactive thyroid gland is very common with middle aged Dobermans. Neveya had not had proper vet care for several years when she came to us. The difference proper care has made is one of rescue's great success stories. Since Neveya has been getting her daily thyroid supplement, she obviously feels and looks so much better. She is like a different dog now! She has slimmed down and runs and plays like a dog should.

Check out Neveya's latest video:
Neveya is usually quiet in the house but will bark if she sees birds, chipmunks, squirrels, etc. She does tend to bark at wildlife when she is out in the yard. Neveya will let you know when strangers are around but quickly becomes their best friend once you let her know they are welcome. Neveya is a sweet, affectionate girl that's fun to have around. If you have lots of love and time for our sweet, lovable Neveya, email me so we can talk more about her.
This is My Story
Neveva came to DAR&E when her owner had to move to care for her elderly parents and couldn't take her with them.
---
DAR&E only places within the Maryland, Virginia, Washington DC, Delaware, and in portions of both eastern West Virginia and southern Pennsylvania. Please do no apply to adopt if you live outside of those areas. Please visit our Adoption Process page for additional information on adopting one of our DAR&E Dobermans & an online application!
Our dogs are spayed/neutered, up-to-date on shots and microchipped.
How You Can Help Neveya
A Tax deductible sponsorship gifts of any amount are welcome in support of our orphans.
DAR&E Wear
$15
Step 1 on the road to a forever home is a collar and tag. DAR&E dogs always have a home with us. Support a dog on its first steps by sponsoring the purchase of their collar and tag.
SPONSORS

All sponsorship donations are tax deductible and will be used to care for and for medical treatment for dogs in DAR&E's care. You can sponsor multiple dogs.