Hi, I'm Obie
Status: adopted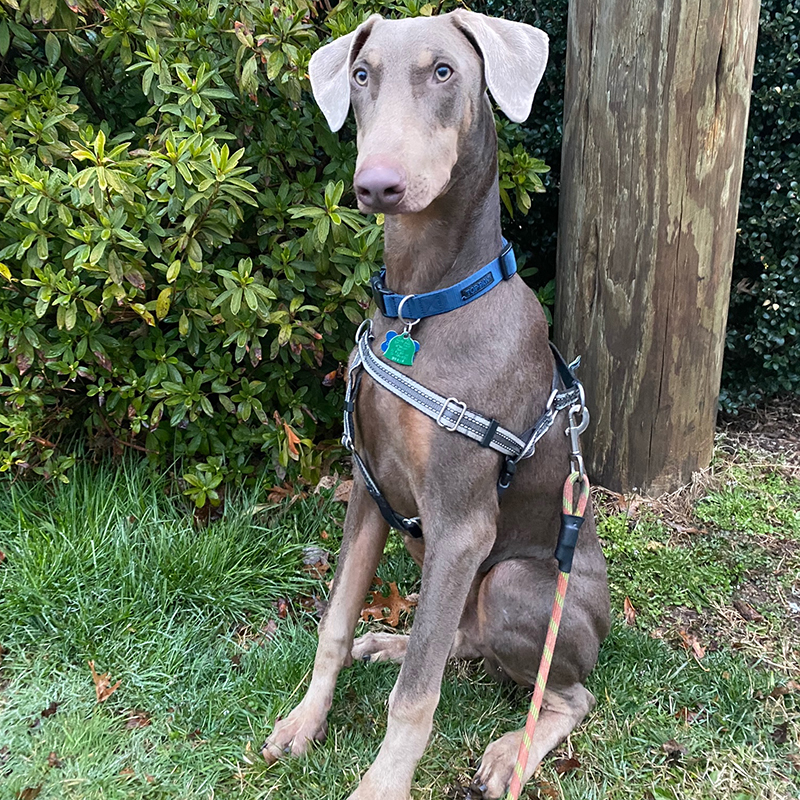 About Obie
Obie ("Obie the Dobie") is a 60-ish pound (and growing!), 7-ish month fawn puppy with beautiful and expressive ears and eyes. He has a docked tail. Obie has a lot of love and enthusiasm for life! He is a sweet and smart boy who is looking for a home that will give him a lot of play, adventure, and affection.
The first thing to know about Obie is that he loves to play! He loves to play with other dogs and with people. He is always up for playing catch with a ball or a stick, and will bring the ball back for you to throw it again. He is very talented at catching things in mid-air, whether it's a ball or a treat. He is currently working on trying to fit two balls in his mouth at once and is determined to figure out how to make that work. Obie plays a lot with our two older Dobies and other large dog friends in the neighborhood; he plays like a big boy puppy and likes to tug, chase and wrestle, and like any puppy (and Dobie), is mouthy. He is very social and would enjoy a home with an active and playful female dog who is savvy with Dobie-style play, or to have regular playdates with dog friends. He definitely needs a fenced yard.
The second thing to know about Obie is that he loves to snuggle. He is really into affection and touch, and loves nothing more than to sit in your lap and chew on an antler or hoof while you pet him. If you sit on the couch, he wants to sit in your lap. He will sleep in his crate, but sleeps better (and longer) cuddled in bed.
https://youtube.com/shorts/UbkzOWn9Xcw?feature=share
The third thing to know is that Obie is very social and loves to meet new people and dogs, and is very friendly and well-mannered. He enjoys going to new places and having new experiences. He likes hiking, going to the farmer's market, walking in the neighborhood, and going to the pet store. Truly, there's nothing we've found that he doesn't like – except crows. He does not like crows. So far, he has not been reactive to squirrels or rabbits despite the warnings from our other dogs that he should be very afraid of them. 
Obie is very smart and knows a lot of words already. He knows sit, down, paw, touch, and "Where's your ball? Go get your ball." He is very food motivated and seems to enjoy learning things. Going to school with him is going to be a lot of fun – he is surely going to be at the top of the class.
He has a lot of energy, a smart brain that likes to be occupied, and wants a lot of attention. He is working on being chill during the work day as long as he has a lot of activity in the morning. He likes to hang on the couch or in a comfy chair where he can look out the window, and benefits from potty breaks every 2-3 hours and a mid-day play break. In late afternoon and evening the puppy energy catches up and he needs play, games, and attention. He gets the zoomies every evening. He will not do well crated for long hours, as he will get too bored, and a bored puppy is a bad puppy.
Obie has not been destructive in the house. He will grab things that are available (pillows, clothing, dish towels), but his interest is in making it a game of chase or otherwise getting you to stop what you're doing and pay attention to him. He will drop things when asked, or in exchange for a treat.
Obie is a very fun and sweet puppy and is looking for a home that will make him the center of attention and help guide him through the rest of his puppyhood so he can grow up to be a good boy and great member of your family.
This is My Story
Obie found himself needing DAR&E to find him a forever home.
---
DAR&E only places within the Maryland, Virginia, Washington DC, Delaware, and in portions of both eastern West Virginia and southern Pennsylvania. Please do no apply to adopt if you live outside of those areas. Please visit our Adoption Process page for additional information on adopting one of our DAR&E Dobermans & an online application!
Our dogs are spayed/neutered, up-to-date on shots and microchipped.
How You Can Help Obie
A Tax deductible sponsorship gifts of any amount are welcome in support of our orphans.
DAR&E Wear
$15
Step 1 on the road to a forever home is a collar and tag. DAR&E dogs always have a home with us. Support a dog on its first steps by sponsoring the purchase of their collar and tag.
SPONSORS

All sponsorship donations are tax deductible and will be used to care for and for medical treatment for dogs in DAR&E's care. You can sponsor multiple dogs.