Hi, I'm Rocket & Groot
Status: courtesy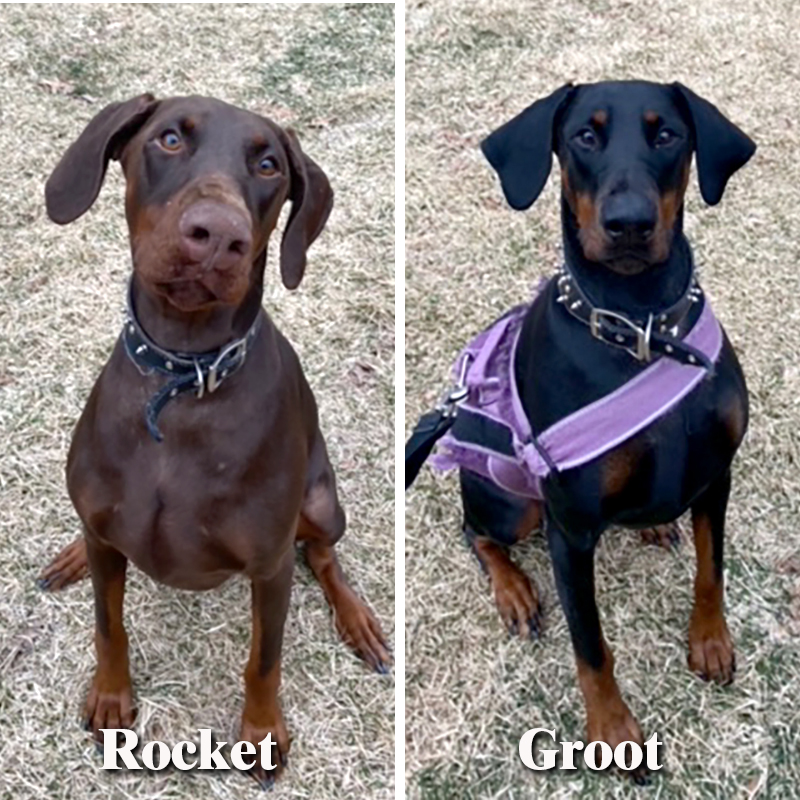 About Rocket & Groot
Rocket and Groot are two beautiful, 2 year old female Dobermans.  Rocket is red/tan and Groot is black/tan.  They are both spayed and up to date on their vaccinations. Rocket and Groot have been together since they were babies. They came from the same breeder and have the same father so they are half siblings. They have been inseparable from the first day they came home. This is why they must stay together. 
They are house and crate trained. They do not do well with other dogs and get very nervous on walks. They also get nervous and bark when strangers come to the house but after a while, they get over it. They like to care for one another by cleaning each other. They love to wrestle with each other. Their favorite game is when Rocket will hunt Groot. Groot knows she is coming but waits quietly.  Check out their video. It's so funny to watch. 
They are both very nervous and get intimidated by human pressure. They love affection and only want to be loved. They need to be in a home with a yard and fence to run around and play. Preferably to be on home where someone can work from home or where they will not be alone.  Preferably someone with experience with Doberman, to help train them and to identify their triggers to human pressure. They also love to wrestle with our kids. One is 15 and the other 12. They are used to sleeping in the room with our kids but it will take some time to warm up to new kids. The best way to introduce someone is to have them walk them to the house themselves after they give then cheese. They love cheese, peanut butter, bacon and love to get ice every time they hear the ice dispenser.
Groot is very intimidated by my husband and we have not been able to help her get over it. 
Because they are so bonded, I want them to be together. They are 2 lovely dogs that only want to be loved. 
This is My Story
---
DAR&E only places within the Maryland, DC, West Virginia and Virginia area. Please do no apply to adopt if you live outside of those areas. Please visit our Adoption Process page for additional information on adopting one of our DAR&E Dobermans & an online application!
Our dogs are spayed/neutered, up-to-date on shots and microchipped.
How You Can Help Rocket & Groot
A Tax deductible sponsorship gifts of any amount are welcome in support of our orphans.
DAR&E Wear
$15
Step 1 on the road to a forever home is a collar and tag. DAR&E dogs always have a home with us. Support a dog on its first steps by sponsoring the purchase of their collar and tag.
SPONSORS

All sponsorship donations are tax deductible and will be used to care for and for medical treatment for dogs in DAR&E's care. You can sponsor multiple dogs.