Hi, I'm Rojo
Status: adopted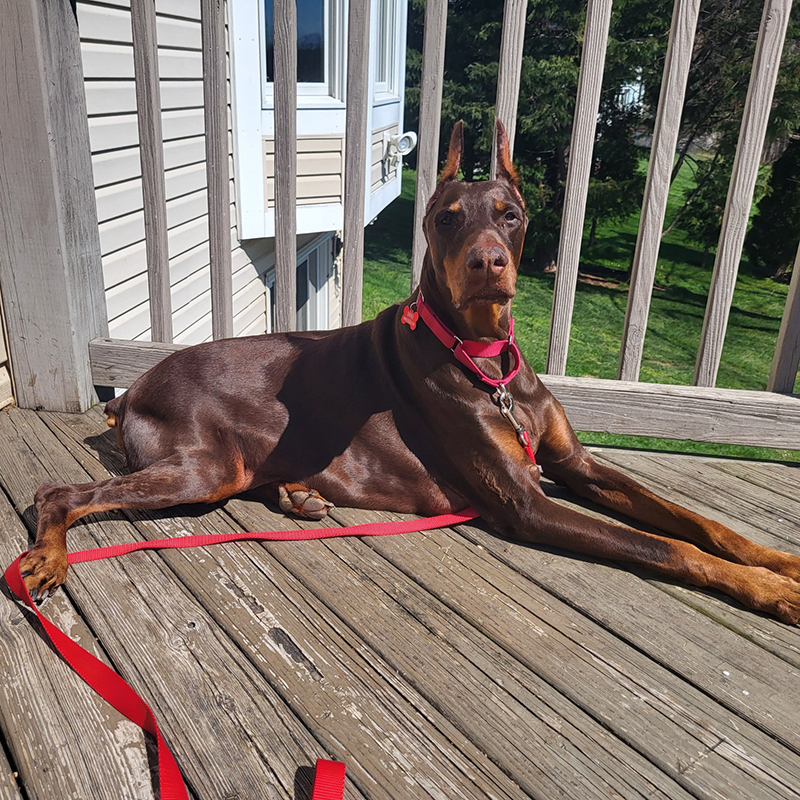 About Rojo
Rojo is an ~8/9 year old 83lb red male with cropped ears and a docked tail. He is incredibly sweet and loving. Rojo is house-trained and loves to laze on his bed most of the day. He is a real chill guy who loves endless cuddling and is totally unfazed by strange noises, visitors, or grooming.
Rojo really enjoys meeting other dogs and people on walks, although can be a bit sensitive to rude dogs who bark or jump at him. He gets a lot of compliments when out and about and has become well-known in his neighborhood.
Rojo does well being occasionally left home alone with a kong (uncrated) for 2-3 hours, but is ideally looking for a companion that will be there most of the day. At night he likes to sleep on his dog bed in the bedroom.
Here is Rojo enjoying an ice cream cup on a nice day: https://youtube.com/shorts/WEpFmAS-IOE?feature=share 
Rojo is a very polite and well-natured dog. He understands human food and objects are off-limits, and he does not jump up on people or furniture. He gets along well with children and animals outside the house, but his size might make him unsuitable for smaller children. He'd also prefer not to be living with an overly-energetic dog, they would not match his vibe!
Rojo is an older boy and has had some health troubles which he now manages well with medication. If you think you can give him a warm loving home, please reach out! Rojo is located in DC. Special needs
This is My Story
Rojo found himself needing DAR&E to find him a new forever home.
---
DAR&E only places within the Maryland, Virginia, Washington DC, Delaware, and in portions of both eastern West Virginia and southern Pennsylvania. Please do no apply to adopt if you live outside of those areas. Please visit our Adoption Process page for additional information on adopting one of our DAR&E Dobermans & an online application!
Our dogs are spayed/neutered, up-to-date on shots and microchipped.
How You Can Help Rojo
A Tax deductible sponsorship gifts of any amount are welcome in support of our orphans.
DAR&E Wear
$15
Step 1 on the road to a forever home is a collar and tag. DAR&E dogs always have a home with us. Support a dog on its first steps by sponsoring the purchase of their collar and tag.
SPONSORS

All sponsorship donations are tax deductible and will be used to care for and for medical treatment for dogs in DAR&E's care. You can sponsor multiple dogs.