Hi, I'm Romeo
Status: adopted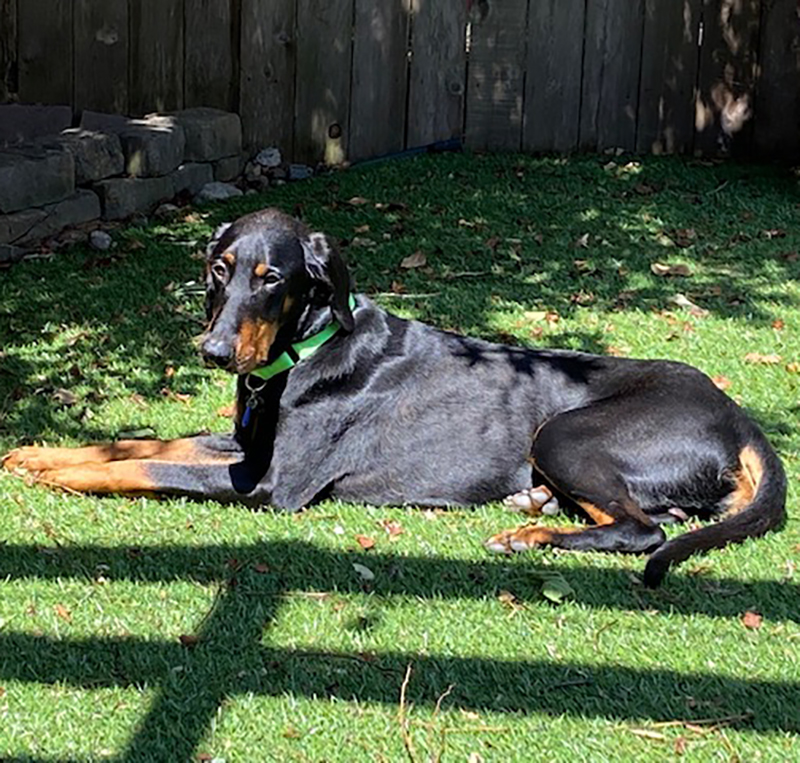 About Romeo
Meet Romeo, a 2 year old, black, natural Doberman. Perfectly named because he will steal your heart instantly. You will be powerless against his puppy dog eyes. Romeo is a wannabe lap dog and will demand your affection. Romeo is playful and extremely curious about the world around him. He doesn't sniff his way through a walk, he watches and listens to everything. He does pretty well on a leash, but could fine tune a few manners, like when he gets a little nuts when he can't say hello to every dog he sees. He's very friendly, but will take cues from an unfriendly dog that barks at him first, he will return the bark. This behavior could be quickly corrected with some training which he would do well with. He's very social and plays well with other dogs. Romeo is very smart and eager to please. He works for treats as well as simple praise. He catches on to the house rules quickly. He loves to sunbathe, stalk squirrels in the yard, and enjoys a good nap. If his new home doesn't have a fenced yard, he should live near a fenced park where he can spend time outside.
He is crate-trained and easily goes in when prompted, for a treat of course. He sometimes even puts himself to bed. He must have a large stuffed animal nearby at all times, currently it's a narwhal that he absolutely adores. 
He will not tear it to shreds, he prefers to carry it around or "suck" on it for comfort. Warning – you may not be able to handle the cuteness.
Romeo was found as a stray and surrendered after testing positive for heartworms. He has been treated and recovered. He has put on weight and is slowly rebuilding his muscles, and is looking stronger and healthier every day. He is now taking long walks and running.
Romeo is ready to find his forever home – a home that will return the love of this sweet boy.
This is My Story
Romeo was found as a stray and surrendered after testing positive for heartworms.
---
DAR&E only places within the Maryland, Virginia, Washington DC, Delaware, and in portions of both eastern West Virginia and southern Pennsylvania. Please do no apply to adopt if you live outside of those areas. Please visit our Adoption Process page for additional information on adopting one of our DAR&E Dobermans & an online application!
Our dogs are spayed/neutered, up-to-date on shots and microchipped.
How You Can Help Romeo
A Tax deductible sponsorship gifts of any amount are welcome in support of our orphans.
DAR&E Wear
$15
Step 1 on the road to a forever home is a collar and tag. DAR&E dogs always have a home with us. Support a dog on its first steps by sponsoring the purchase of their collar and tag.
SPONSORS

All sponsorship donations are tax deductible and will be used to care for and for medical treatment for dogs in DAR&E's care. You can sponsor multiple dogs.