Hi, I'm Ruby
Status: adopted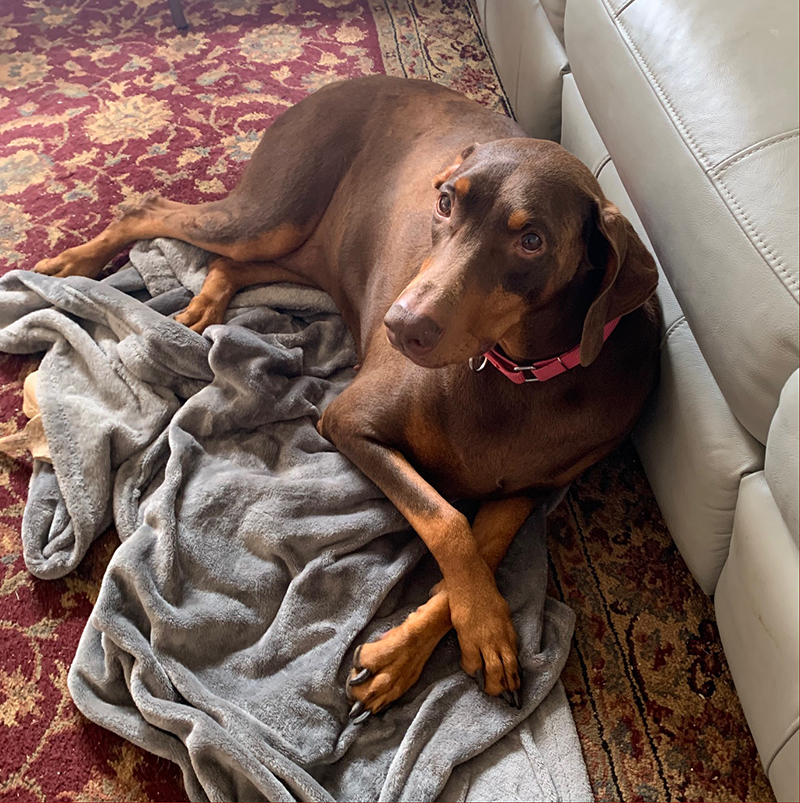 About Ruby
Meet Ruby, our beautiful, sweet, and gentle red/rust dobie girl!  Ruby is a great companion who will follow you wherever you go. She loves to ride in the car and meets people well so she is ready for adventure with you.  She is a medium-energy dog that is very easy to have around.  She loves to run around the yard looking for those little lizards and sniff after rabbit trails but is quiet and calm in the house.  Ruby would love to have a fenced yard where she could go exploring off-lead. She knows a few commands and is a dog who wants to please so she will be a good training candidate. She tends to pull on lead but does better with a harness.
Ruby loves other dogs and would enjoy a playmate around her size. She could also be a solo dog that enjoys a play date occasionally. She gets excited and can be a little overwhelming at first with other dogs, but Ruby has shown that she has good doggy manners and recognizes when she is being too much for another dog and will chill out. Cats I am not too sure about. If they run, she will likely chase. 
Ruby seems to have been a house dog in her previous life. She is well-house-trained and has great house manners.  She doesn't take food off counters and doesn't get on furniture.  She isn't quite as trustworthy if food is at her level and needs to be watched if there is food in her reach.  Hey, no one is perfect!
Ruby came to us as a stray. My vet estimates Ruby is about 5 years old.  She was a little timid when we first started fostering her but after a week or so she started feeling safe and at home. Now she is your typical Doberman. Ruby came to us overweight with a patchy coat and some skin issues.  Our vet found that she has low thyroid gland activity which is very common with middle-aged Dobermans. The effect of low thyroid is often weight gain and coat issues. She takes a very inexpensive daily thyroid supplement that will be required for life. For example, from Chewy.com a 2-month supply of her thyroid supplement costs about $12.  Now that her thyroid condition is being properly treated, she is beginning to lose weight, her coat is starting to come back and her skin is clearing up. She has been on a diet and needs to lose about 10 more lbs.  It will take time for Ruby's coat to fully recover but it's already looking much better!
Ruby is crate-trained and will sleep quietly through the night in her crate in our bedroom. Ruby doesn't really need to be crated and we always leave her free in the house while we are away. Like a lot of dogs, she finds sweaty socks, work gloves, etc. interesting, so we make sure not to leave them lying around.
She is a sensitive girl who will do best in a quiet home with a kind person who is as gentle as she is. Ruby is a sweet, loving girl who will follow you throughout your day and will give occasional little, gentle kisses.  
If you are a kind, gentle person looking for a sweet companion Ruby may be your girl.  Ruby is in Virginia.
This is My Story
Ruby needs DAR&E to find her a new home.
---
DAR&E only places within the Maryland, Virginia, Washington DC, Delaware, and in portions of both eastern West Virginia and southern Pennsylvania. Please do no apply to adopt if you live outside of those areas. Please visit our Adoption Process page for additional information on adopting one of our DAR&E Dobermans & an online application!
Our dogs are spayed/neutered, up-to-date on shots and microchipped.
How You Can Help Ruby
A Tax deductible sponsorship gifts of any amount are welcome in support of our orphans.
DAR&E Wear
$15
Step 1 on the road to a forever home is a collar and tag. DAR&E dogs always have a home with us. Support a dog on its first steps by sponsoring the purchase of their collar and tag.
SPONSORS

All sponsorship donations are tax deductible and will be used to care for and for medical treatment for dogs in DAR&E's care. You can sponsor multiple dogs.