Hi, I'm Ruby
Status: adopted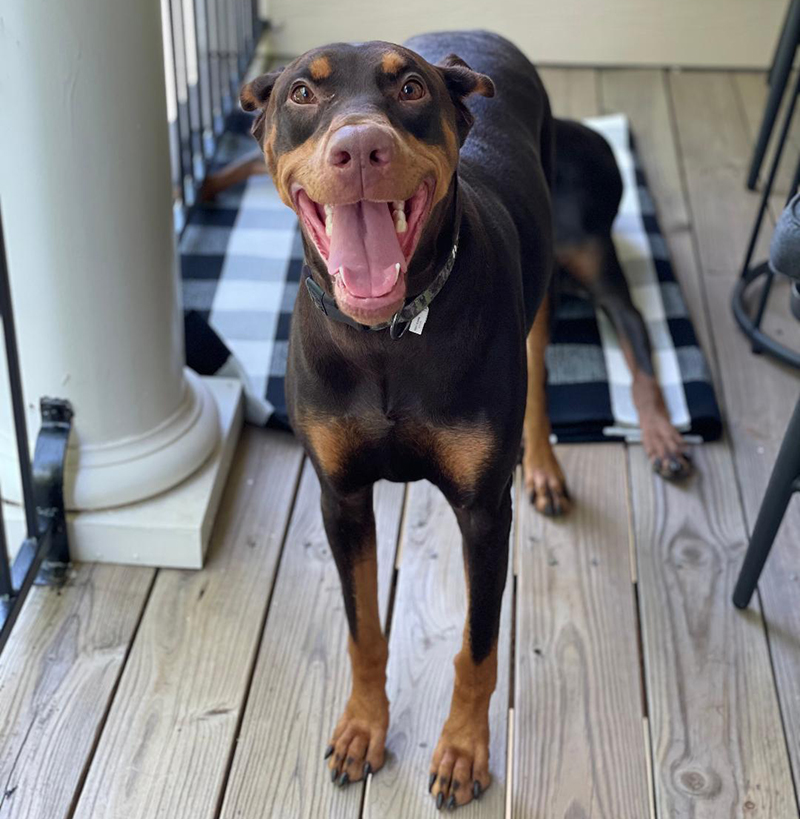 About Ruby
Hi! My name is Ruby. You will see from my pictures that I am a very pretty red/tan girl with nicely cropped ears and a docked tail. My Mommie is very sad but with her schedule and recent health issues she can no longer care for me.  My younger sister recently found a new home and I miss her so much. She was more confident than I am, so she made me feel safe. Now she is gone and it's just me and my mom.  A new home with a confident dog like my sister would make me feel less nervous. My mom recently found me a new home too, but they returned me they said for financial reasons. It was tough for me there; they didn't have other dogs, but they had kids and I miss them. It was a stressful home, but I love hard, and my mom knows it!  
When I'm home alone, I don't potty in the house, I just listen to my music or listen to the tv, and maybe bark out the window when mom isn't here. I just really like to socialize but it's just me. I want to get out of my shell more but I'm always nervous and unsure of what to do because my previous home, they'd yell at me. My mom here loves me a lot and lets me sleep in her bed occasionally but other times I just sleep in my crate on my blanket. I love to sleep comfortably! I need some cushion and warmth. I hope my next home has more friends for me!
I bark loud when I am nervous but if you just be patient, you'll learn that I'm really just nervous and feel afraid because I've been snapped at by other dogs when I've wanted to play so my first defense is to bark. Mom takes me to doggy day camps and dog parks, and I do just fine there but when on the leash I must confess, I do get a little protective BUT it's because I'm nervous and have no confidence. When it's dark I'm afraid of what's around the corner. It's just me and mom, I HAVE to bark to scare of people and other things from trying to hurt us. When people seem nice, I always let them pet me and I lick them but still am bashful because it's just who I am. I want to change that. Mom works with me, and I've gotten a little better than before but still I know I can do better 🙂     
Be patient with me because I have had many changes and need time to feel safe again. I will reward your patience with so much love. I hope you have other dogs that will help me feel safe again. Thank you so much for reading about me. Love, Ruby.
This is My Story
---
DAR&E only places within the Maryland, Virginia, Washington DC, Delaware, and in portions of both eastern West Virginia and southern Pennsylvania. Please do no apply to adopt if you live outside of those areas. Please visit our Adoption Process page for additional information on adopting one of our DAR&E Dobermans & an online application!
Our dogs are spayed/neutered, up-to-date on shots and microchipped.
How You Can Help Ruby
A Tax deductible sponsorship gifts of any amount are welcome in support of our orphans.
DAR&E Wear
$15
Step 1 on the road to a forever home is a collar and tag. DAR&E dogs always have a home with us. Support a dog on its first steps by sponsoring the purchase of their collar and tag.
SPONSORS

All sponsorship donations are tax deductible and will be used to care for and for medical treatment for dogs in DAR&E's care. You can sponsor multiple dogs.