Hi, I'm Sam
Status: adopted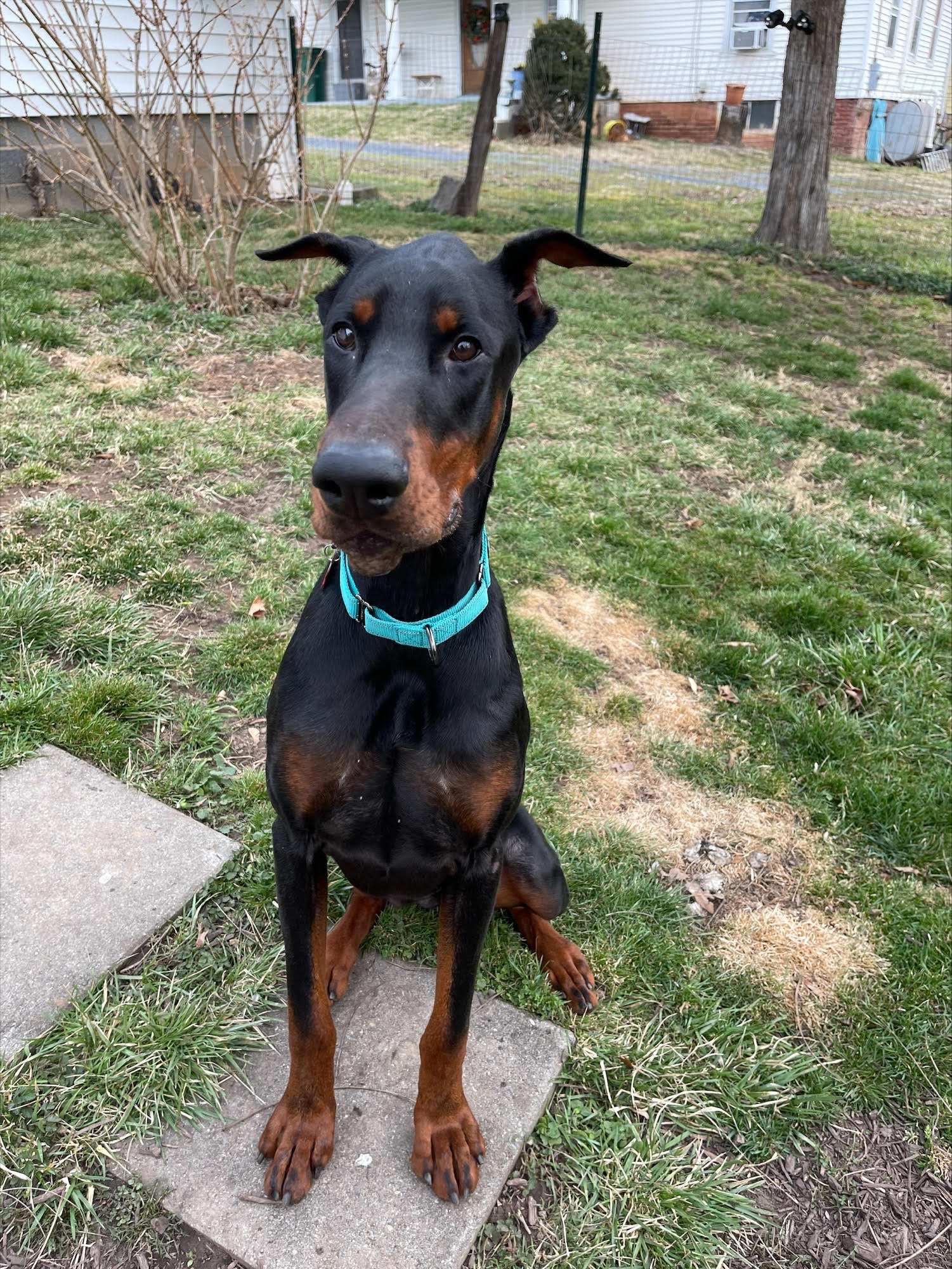 About Sam
Sam is a two year old male with a docked tail and cropped ears, but they don't stand completely. Sam is currently underweight at 67 lbs but should finish at about 75 lbs. Sam is a very sweet boy that is still very much a puppy and loves to play. He is curious about everything and wants to be with you in case he might miss something.
He loves to run and play in the yard. He has lots of energy, isn't very good at fetch but he does entertain himself with the ball.
See him here:

He is silly and goofy and will make you laugh. He knows some commands like sit, wait, catch, and shake but he's not too good at coming when called and pulls on the leash.  
Sam is crate-trained but prefers to be at your side instead. He will settle down after fussing a bit especially if given a tasty Kong. He is a crate Houdini and can escape if not properly secured. He needs to be supervised when out of the crate so he can learn appropriate boundaries. He will chew on soft objects but is happy to take an acceptable toy in its place.
He is very smart and socialized but still has a short attention span and is easily distracted. Basically a young Doberman. He will do great with someone that can continue training him and can work off his energy.
Sam will do best in a home with little crate time and plenty of exercise and attention. He is a sweet, smart, active boy who needs more training to reach his full potential. He is mostly curious about other dogs but unknown with cats.
This is My Story
Sam was found as a stray dog by a local shelter who asked DAR&E to help him find his forever home.
---
DAR&E only places within the Maryland, Virginia, Washington DC, Delaware, and in portions of both eastern West Virginia and southern Pennsylvania. Please do no apply to adopt if you live outside of those areas. Please visit our Adoption Process page for additional information on adopting one of our DAR&E Dobermans & an online application!
Our dogs are spayed/neutered, up-to-date on shots and microchipped.
How You Can Help Sam
A Tax deductible sponsorship gifts of any amount are welcome in support of our orphans.
DAR&E Wear
$15
Step 1 on the road to a forever home is a collar and tag. DAR&E dogs always have a home with us. Support a dog on its first steps by sponsoring the purchase of their collar and tag.
SPONSORS

All sponsorship donations are tax deductible and will be used to care for and for medical treatment for dogs in DAR&E's care. You can sponsor multiple dogs.