Hi, I'm Samson
Status: available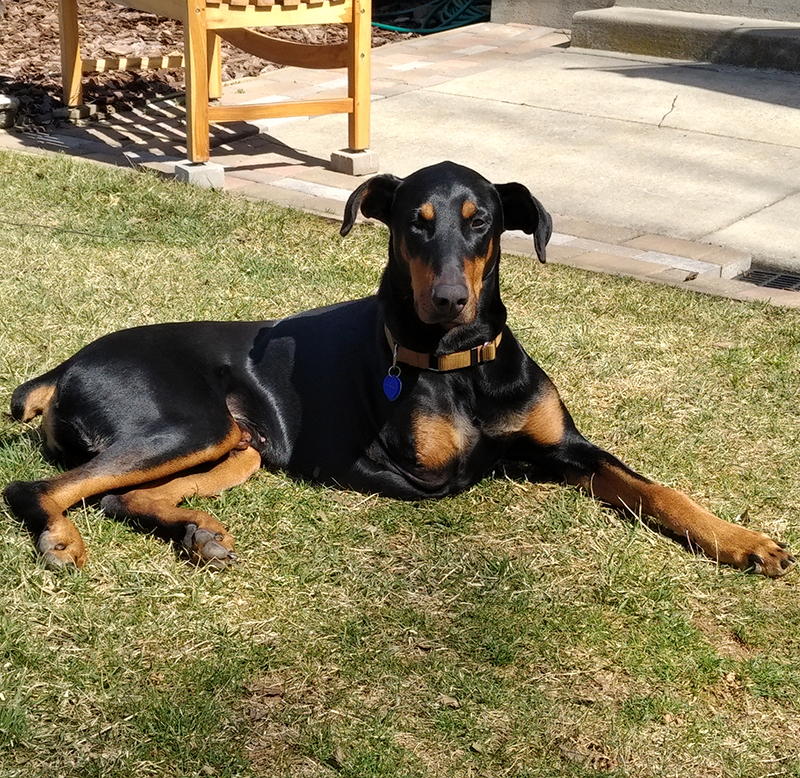 About Samson
Hi, my name is Samson and I am a gentle, calm 3 year old male.  I am black with natural ears and a docked tail. I am very good walking on a lead, I rarely tug on the lead except when I see other dogs.  I'm very calm in the house, and I usually don't bark much. I am cautious when meeting new people inside the house. It may take me a while to warm up to strangers.
Inside the house I'm house-trained and well-behaved, but I'm not crate trained. In the time I've been at my foster home, I have not tried to climb on any furniture or beds, and I have not chewed on anything other than my toys. I also sleep through the night in my dog bed.  I really like going for car rides. I'm well-behaved and calm when riding in the car.
In January, I had surgery to remove my right leg. I had a growth on my right elbow and the vets thought it was best to remove my leg so I wouldn't have to worry about it causing any problems later.  It's all healed up now and I am doing great!  People kept telling me it would not be that bad not having four legs, but I didn't believe them. Now I do though!  I am pretty much back to normal, and I have very good mobility. I like all the same activities as other Dobermans, walks, playing fetch and running in the yard. I just can't do them as quickly as other dogs.  I can go up and down stairs without any problems!  It does really help me to have my food and water bowl elevated off the floor.
This is My Story
Samson was turned into a shelter who asked us to help him find his forever home.
---
DAR&E only places within the Maryland, DC, West Virginia and Virginia area. Please do no apply to adopt if you live outside of those areas. Please visit our Adoption Process page for additional information on adopting one of our DAR&E Dobermans & an online application!
Our dogs are spayed/neutered, up-to-date on shots and microchipped.
How You Can Help Samson
A Tax deductible sponsorship gifts of any amount are welcome in support of our orphans.
DAR&E Wear
$15
Step 1 on the road to a forever home is a collar and tag. DAR&E dogs always have a home with us. Support a dog on its first steps by sponsoring the purchase of their collar and tag.
SPONSORS

All sponsorship donations are tax deductible and will be used to care for and for medical treatment for dogs in DAR&E's care. You can sponsor multiple dogs.