Hi, I'm Sasha
Status: adopted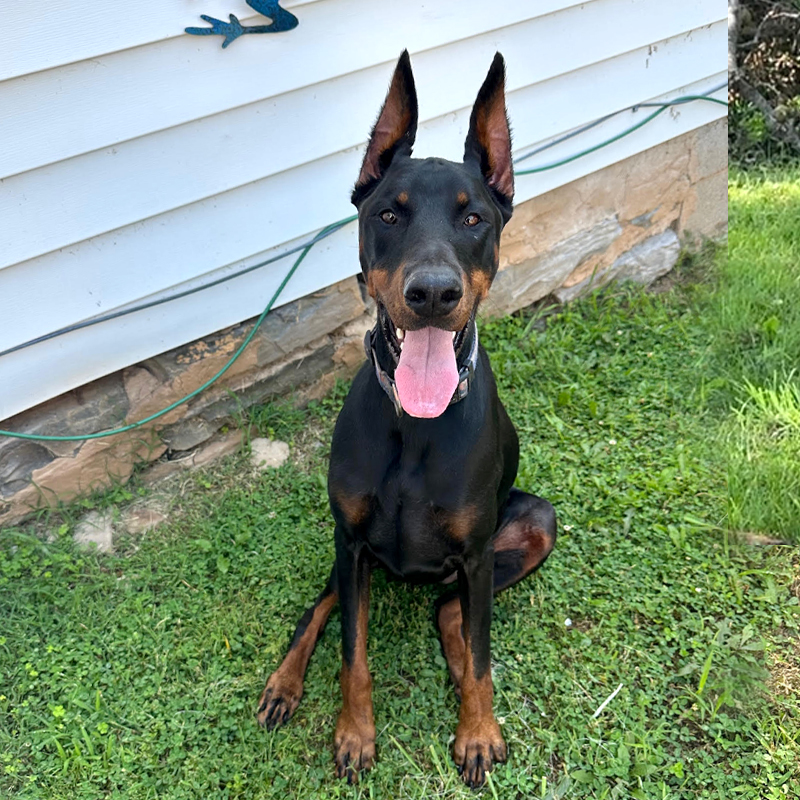 About Sasha
Sasha is a 3 1/2-year-old, black/rust European-bred female Doberman with cropped ears and a docked tail. She currently weighs about 70 pounds and is full of exuberant energy. This is an on-the-go girl. Are you a runner and looking for a partner? This is your girl. Do you need a companion for long walks? This is your girl. Are you looking for a couch potato to binge-watch with? This probably isn't your girl. Do you have a large, fenced yard to play and burn off energy? This could be your girl. 
Sasha is a sweet girl who will slow down long enough to bring her favorite ball to you to toss for her or to put her head in your lap for some love. She's a very smart girl but needs some fine-tuning. She pulls on the leash, sometimes jumps up and counter surfs. She hasn't shown a lot of interest in the furniture and is crate trained. She settles down when you leave but will bark more in the crate if you're around. She does well out overnight and rides quietly in the car. She can be initially hesitant with new people but warms up quickly especially if treats are involved. Sasha would benefit from someone who is Doberman experienced, especially with a European-bred Doberman due to their having a stronger working drive than American-bred Dobermans.
She has a couple of favorite balls that she likes to play with, bringing them to you or just carrying them around. She has an uncanny ability to get her toys stuck under the furniture and then scramble to get them out. She is very amusing chasing her tail and bucking in circles. This girl will play for hours. She really needs a large, fenced yard to play in. She would do well with other dogs of similar size and energy or just by herself. She has been with older children in the past but probably wouldn't do well with cats or small animals. 
This is My Story
Sasha found herself needing DAR&E to fins her a new fur-ever home.
---
DAR&E only places within the Maryland, Virginia, Washington DC, Delaware, and in portions of both eastern West Virginia and southern Pennsylvania. Please do no apply to adopt if you live outside of those areas. Please visit our Adoption Process page for additional information on adopting one of our DAR&E Dobermans & an online application!
Our dogs are spayed/neutered, up-to-date on shots and microchipped.
How You Can Help Sasha
A Tax deductible sponsorship gifts of any amount are welcome in support of our orphans.
DAR&E Wear
$15
Step 1 on the road to a forever home is a collar and tag. DAR&E dogs always have a home with us. Support a dog on its first steps by sponsoring the purchase of their collar and tag.
SPONSORS

All sponsorship donations are tax deductible and will be used to care for and for medical treatment for dogs in DAR&E's care. You can sponsor multiple dogs.