Hi, I'm Sasha
Status: adopted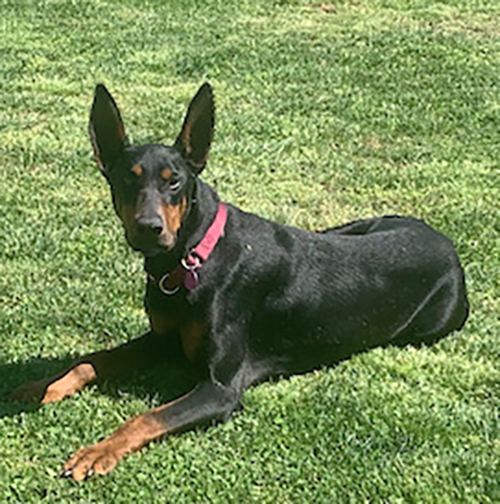 About Sasha
Meet our lovely Sasha. Sasha is a 5 year old, black/tan, female Doberman. She weighs about 75 lbs, has cropped ears and a docked tail. Sasha is an energetic, spirited girl who loves to play fetch. We hide the balls until we are ready to play because otherwise she will relentlessly follow you around and toss the ball to you. Hiding the balls works pretty well but having a dog that loves to play fetch gives you an easy way to exercise her.
When Sasha gets tired she will find a shady spot to lay down. Sasha came to DAR&E because her owners said she was too energetic and rough for their very young children. Sasha gets excited when she plays but she is friendly and very sweet natured.
We are not sure of what kind of life Sasha had before. She appears to have had a few litters of pups. She may have weaned a litter fairly recently. Luckily, DAR&E spayed Sasha so she doesn't have to worry about having any more puppies. She is like a rough cut diamond that just needs some polish. She tends to be a little hyper but is learning to relax. Sasha enjoys a good neck scratch.  
Sasha is well house-trained. She seems very used to a crate and will go there to eat and to lounge during the day.  She sleeps in her crate at night. Sasha is very food motivated and she enjoys bully sticks and other natural chew items to keep her occupied. Sasha is a very messy drinker 🙂  
Sasha likes other dogs. Cats would be a problem. Sasha would chase them. Due to Sasha love of playing fetch several times a day, every day, a fenced yard big enough for her to play fetch in is a must. Sasha's leash manners aren't great yet so a fenced yard will make life easier while Sasha is catching up on the training her previous owners didn't give her.  If you would enjoy the company of a sweet, active girl, email me to learn more about our dear, sweet Sasha. 
This is My Story
---
DAR&E only places within the Maryland, Virginia, Washington DC, Delaware, and in portions of both eastern West Virginia and southern Pennsylvania. Please do no apply to adopt if you live outside of those areas. Please visit our Adoption Process page for additional information on adopting one of our DAR&E Dobermans & an online application!
Our dogs are spayed/neutered, up-to-date on shots and microchipped.
How You Can Help Sasha
A Tax deductible sponsorship gifts of any amount are welcome in support of our orphans.
DAR&E Wear
$15
Step 1 on the road to a forever home is a collar and tag. DAR&E dogs always have a home with us. Support a dog on its first steps by sponsoring the purchase of their collar and tag.
SPONSORS

All sponsorship donations are tax deductible and will be used to care for and for medical treatment for dogs in DAR&E's care. You can sponsor multiple dogs.