Hi, I'm Shelly
Status: adopted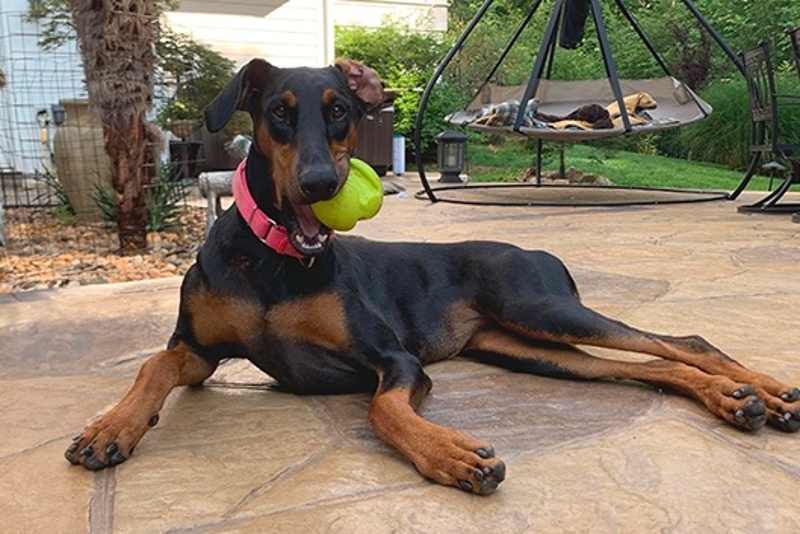 About Shelly
I am black and tan with natural ears. My tail is docked. I am
about 50 lbs. My foster mom says I am an amazing sweet and smart little girl. I am 1.5 years old. A fully fenced yard is required (no invisible fence).
I live with 4 other dobies and I fits perfectly with all of them. I play and play all day. I am house trained. My foster mom trusts me, and I have been great left alone at the house with the access to the full house.
I sleep and cuddles all night long in bed with my foster parents. I love to sit on the chair with my foster mom when she works or sleep under her desk. I loooves toys, tug of war and playing with lots of toys. Marrow bones are yummy and kongs with peanut butter. I am very much a puppy – lots and lots of energy, then I collapse into a nap. She is the biggest cuddle baby ever with the puppy soft skin.
The perfect adopter has one big dog and either is working from home or retired with no kids and a bit anti-social. The less people living at the house the better. Shelly had a tough start in live without being socialized or fed. She is a little afraid of new people but loves yummy treats and takes them happily to warm up. She will need some classes.
If you think you would like to meet her and possibly give her a forever home – please contact us.
This is My Story
---
DAR&E only places within the Maryland, Virginia, Washington DC, Delaware, and in portions of both eastern West Virginia and southern Pennsylvania. Please do no apply to adopt if you live outside of those areas. Please visit our Adoption Process page for additional information on adopting one of our DAR&E Dobermans & an online application!
Our dogs are spayed/neutered, up-to-date on shots and microchipped.
How You Can Help Shelly
A Tax deductible sponsorship gifts of any amount are welcome in support of our orphans.
DAR&E Wear
$15
Step 1 on the road to a forever home is a collar and tag. DAR&E dogs always have a home with us. Support a dog on its first steps by sponsoring the purchase of their collar and tag.
SPONSORS

All sponsorship donations are tax deductible and will be used to care for and for medical treatment for dogs in DAR&E's care. You can sponsor multiple dogs.