Hi, I'm Shep
Status: adopted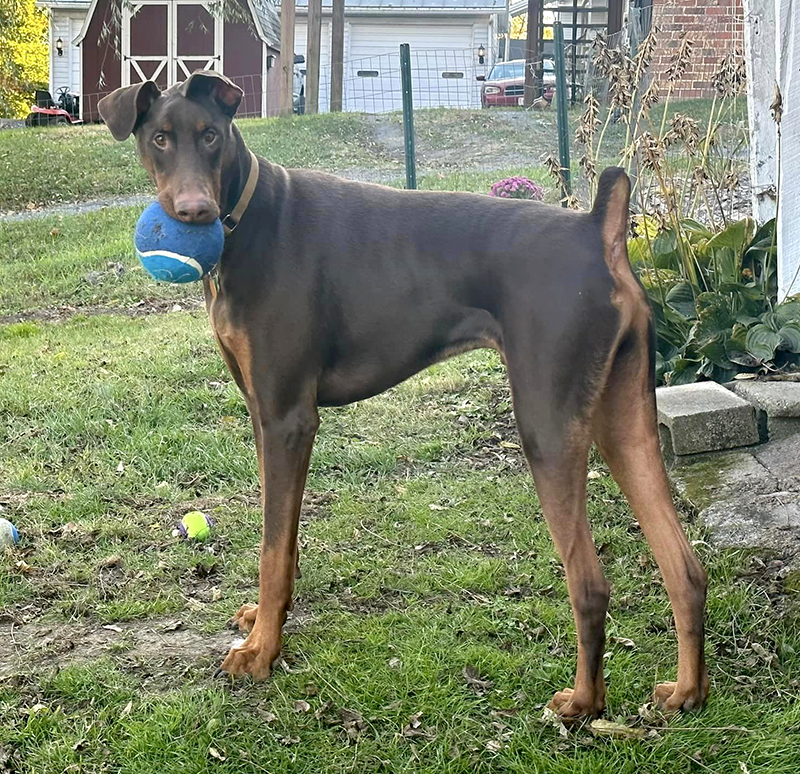 About Shep
Shep is a beautiful red/rust pure bred Doberman (not part shepherd, that is just his name). He is at a great age just shy of 2 years old. He has natural ears and a docked tail. Shep is your typical velcro dobie and is full of love and silliness. Shep is crate-trained. In fact, he knows the morning routine so well he gets into his crate before I get to it and patiently waits for me. During the day he loves to play with my female Doberman and at night he curls up on his dog bed or with my dog. He loves a good snuggle and head scratches. Shep is very smart and learns new things quickly. He walks well on a leash, is well behaved in public, and loves to go out for ice cream. He rides well in the car. Shep would love to be in a home with another large dog friend. Shep is located in Virginia.
This is My Story
His owners had health issues and needed to rehome him.
---
DAR&E only places within the Maryland, Virginia, Washington DC, Delaware, and in portions of both eastern West Virginia and southern Pennsylvania. Please do no apply to adopt if you live outside of those areas. Please visit our Adoption Process page for additional information on adopting one of our DAR&E Dobermans & an online application!
Our dogs are spayed/neutered, up-to-date on shots and microchipped.
How You Can Help Shep
A Tax deductible sponsorship gifts of any amount are welcome in support of our orphans.
DAR&E Wear
$15
Step 1 on the road to a forever home is a collar and tag. DAR&E dogs always have a home with us. Support a dog on its first steps by sponsoring the purchase of their collar and tag.
SPONSORS

All sponsorship donations are tax deductible and will be used to care for and for medical treatment for dogs in DAR&E's care. You can sponsor multiple dogs.