Hi, I'm Shep
Status: adopted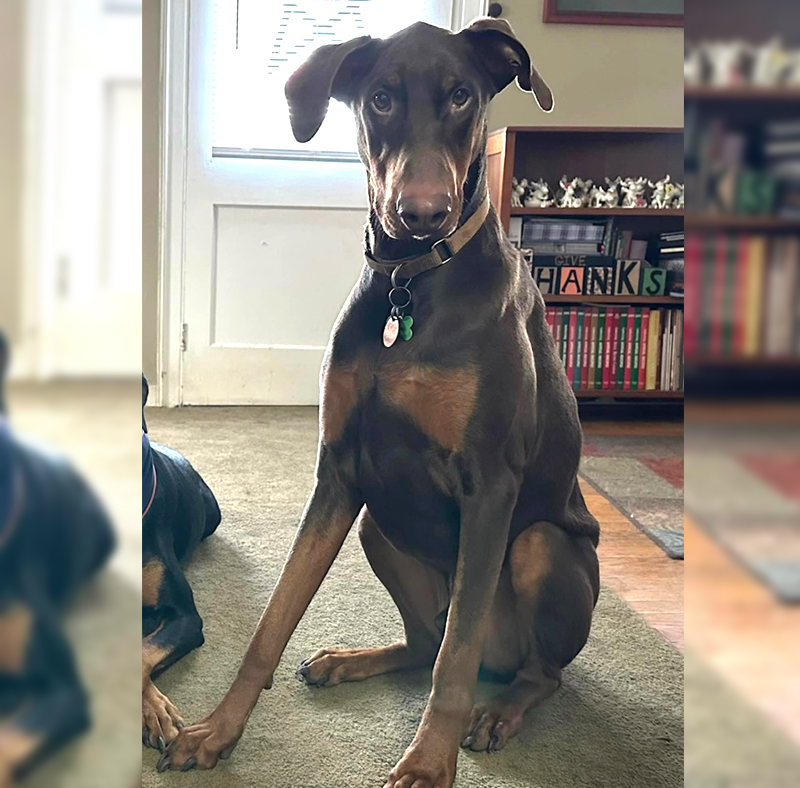 About Shep
Shep is a red/rust 18-month-old male doberman with a docked tail and expressive, natural ears. Sometimes they are out to the side, or in front of his face or one ear flopped over his head, but whichever way, they can make you laugh. He weighs about 90 lbs. Shep has a silly, loving, derpy personality. He is a very Velcro Doberman that always wants to be by your side. If he isn't by your side, he is probably napping or playing with the other dogs or a toy.  He is still a youngster so no toys with stuffing in them.  He is house-trained and will whine to let you know he needs to go out.  Shep
 is crate-trained and goes in without a problem and lays quietly in there unless you're in the house, then he sometimes whines. I typically only crate him when I'm not home. He sleeps on his bed at night with no problems. I've not had him try to get on any furniture. He settles down in the evenings and curls up on his bed or with my other dogs. He loves to put his head in my lap while I'm sitting down and look at me with his beautiful eyes or bring me a toy to toss for him. He is curious about everything and as he looks at things, I'll talk to him, and he tilts his head to one side or the other looking at me. Its so cute!
Shep is food motivated and very smart, he has picked up some things just by learning what I'm trying to teach my own Doberman. He has not shown any food aggression with the other dogs.  He rides well in the car (I always use a restraint), walks well with an easy walk harness, is well-behaved and social in public and loves to get ice cream. He makes a great companion to take out and about and loves the attention. He can be a little leery about strangers coming up to him and reaching for his head, he is better if strangers pet him under the chin.  Shep is good when people visit the house. He may jump up out of initial excitement, but he settles down quickly. He will warn me of people outside, but he doesn't get excited over every little sound.  He is pretty good at coming when called but may have selective hearing if he is distracted by something.    Shep is unknown with children.  I don't think he will do well with cats. His play style is typical Doberman play which may be too rough for small or older dogs.
Shep is a sweet, loving, goofy boy looking for his forever home.
This is My Story
His owners had health issues and needed to rehome him.
---
DAR&E only places within the Maryland, Virginia, Washington DC, Delaware, and in portions of both eastern West Virginia and southern Pennsylvania. Please do no apply to adopt if you live outside of those areas. Please visit our Adoption Process page for additional information on adopting one of our DAR&E Dobermans & an online application!
Our dogs are spayed/neutered, up-to-date on shots and microchipped.
How You Can Help Shep
A Tax deductible sponsorship gifts of any amount are welcome in support of our orphans.
DAR&E Wear
$15
Step 1 on the road to a forever home is a collar and tag. DAR&E dogs always have a home with us. Support a dog on its first steps by sponsoring the purchase of their collar and tag.
SPONSORS

All sponsorship donations are tax deductible and will be used to care for and for medical treatment for dogs in DAR&E's care. You can sponsor multiple dogs.