Hi, I'm Shep
Status: available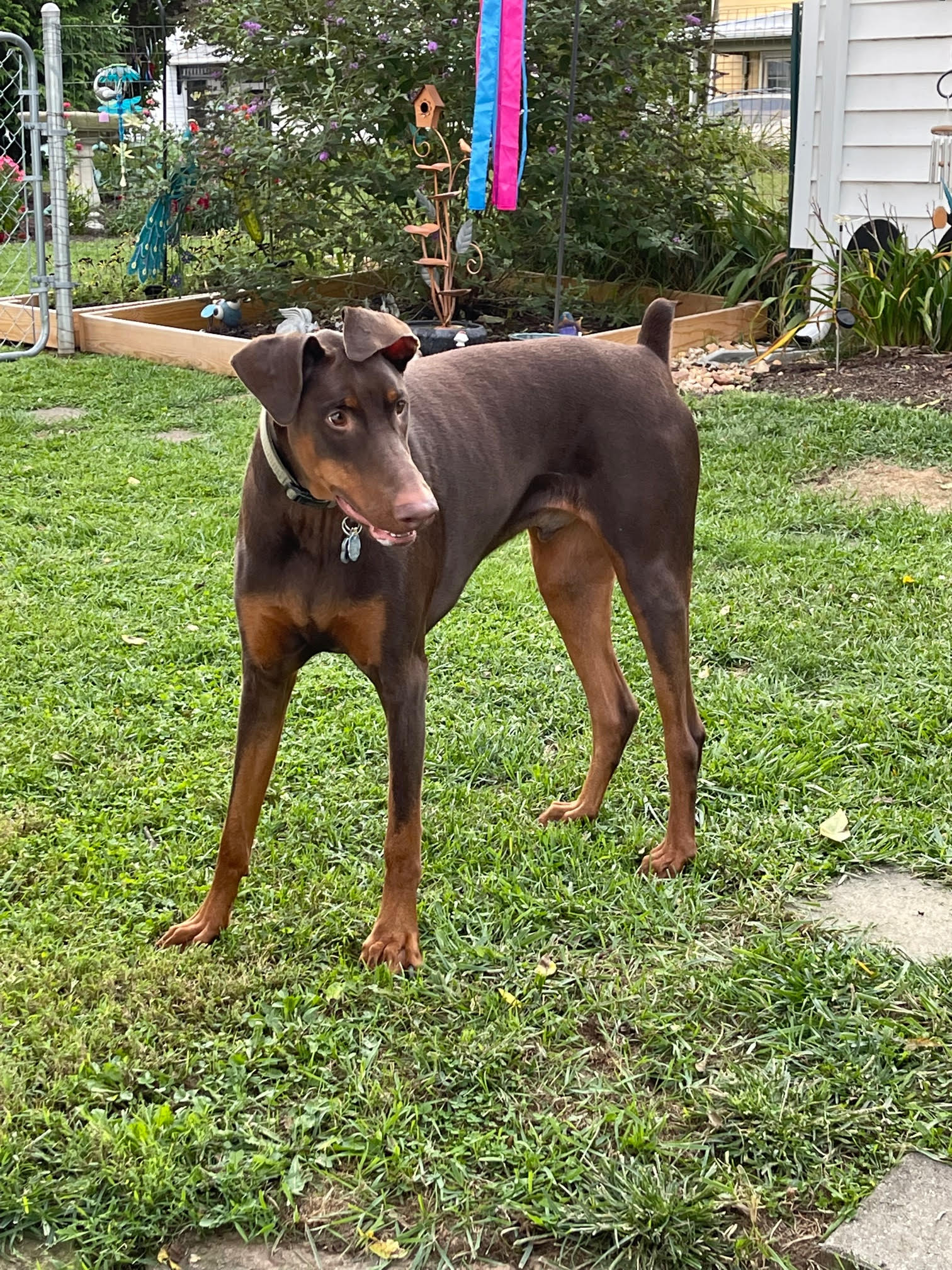 About Shep
Shep is a 15-month-old, 95-pound, red male with cropped ears that don't stand and a docked tail. His one ear sometimes flops over his head and his ears are very expressive. He is a big love that brings me his toys and drops them in my lap to play with him. He follows me all over, is full of energy and is always up for a run in the yard. He is crate trained and happy to hang out, nap or play with his toys in there. He rides pretty well in the car, it did take him a bit to lay down but he stayed in the back. He loves attention and just the right scratch behind his ears might make him fall asleep with his head in your lap. He has not tried to get on the furniture. It does take him a bit to settle down in the house but he happily entertains himself with his toys.
It's not all love and games with Shep. He does pull on his leash, I've been trying him with a halter but he's not crazy about it. He's still very much a puppy and might be inclined to grab something tempting that he shouldn't. He is house trained and will whine or let you know he needs to go out. It took him a couple of days to trust me and start showing off his lovable self. He does sometimes jump up and thinks everything is play time. He needs some work with training. He doesn't always come when called but he knows sit and can catch his treats. He was initially scared of my dogs and can still be a bit hesitant coming out of his crate if they are near. He plays with them now but his play is very rough and nonstop. I would recommend him as an only dog in the house. He is unknown with children and cats. If you're looking for a big, energetic, loving guy, Shep is looking for his new forever home.
This is My Story
His owners had health issues and needed to rehome him.
---
DAR&E only places within the Maryland, Virginia, Washington DC, Delaware, and in portions of both eastern West Virginia and southern Pennsylvania. Please do no apply to adopt if you live outside of those areas. Please visit our Adoption Process page for additional information on adopting one of our DAR&E Dobermans & an online application!
Our dogs are spayed/neutered, up-to-date on shots and microchipped.
How You Can Help Shep
A Tax deductible sponsorship gifts of any amount are welcome in support of our orphans.
DAR&E Wear
$15
Step 1 on the road to a forever home is a collar and tag. DAR&E dogs always have a home with us. Support a dog on its first steps by sponsoring the purchase of their collar and tag.
SPONSORS

All sponsorship donations are tax deductible and will be used to care for and for medical treatment for dogs in DAR&E's care. You can sponsor multiple dogs.