Hi, I'm Stella
Status: adopted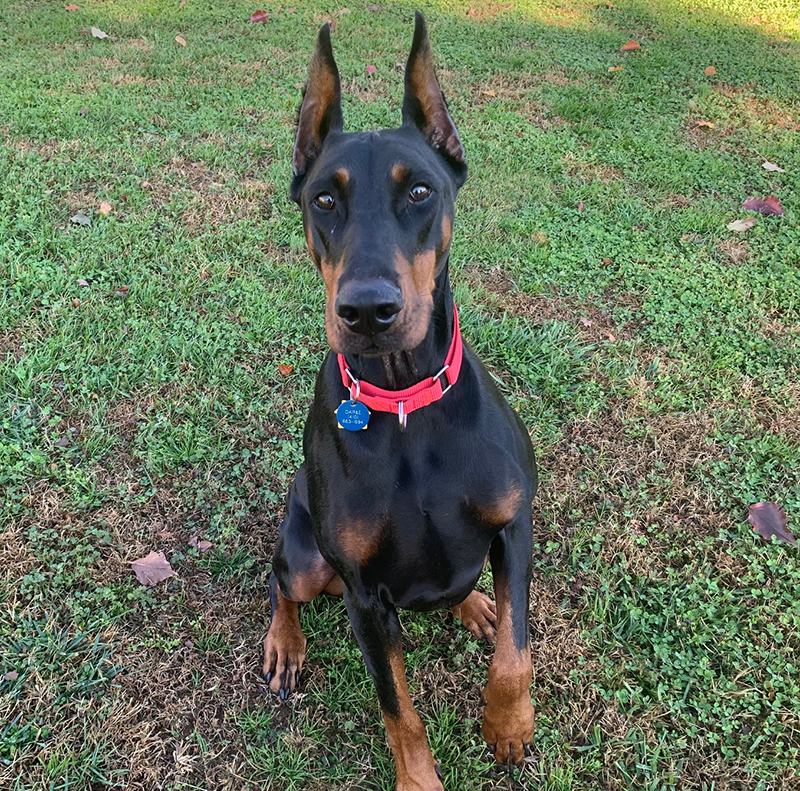 About Stella
Stella is a 3 year old, black/tan female doberman. She weighs about 75 lbs. Her ears are cropped and her tail is docked. Stella is a sweet, sensitive girl that some lucky adopter will be happy to have! She came to DAR&E because she was not friendly with the family cat. She is looking for a home without cats. Stella is very smart and has great problem solving abilities. She thinks being baby gated into an area is a fun game for her to figure out how to get on the other side. This can be annoying but she looks so devastated if you scold her that its hard to stay mad at her. 
Stella is crate trained but crates are not a favorite of hers. Stella may take a few days to get comfortable with her new people but once she does, you will see her abundant charm. Stella is very playful, almost puppy-like at times. She loves to play fetch so she needs a fenced yard large enough for her to play fetch in.
Check out her video:   Stella playing fetch – YouTube    
When inside, she will play with her balls like a cat and bat them around. It is very cute! Check it out: Stella playing ball – YouTube 
She will chew bones or antlers or play with her toys occasionally but most of the time when inside she just wants to lay near her people. Stella puts up a good image of protectiveness of her home and people but is not aggressive. She just sounds scary:) She is pretty good on lead and knows basic commands.
Unfortunately, Stella is not a fan of cars. Riding in a car makes her stomach feel bad so she doesn't want to go for car rides. So if you are looking for a travel companion Stella is not your girl. Stella is looking for an adopter who has experience owning dobermans or other large working breed dogs. Stella loves attention and will be happiest if she is the center of attention with people who have plenty of time for her and don't leave her alone for long hours.
No small dogs please. Stella plays rough like most Dobes and may hurt small dogs accidentally. Stella is a very sweet, sensitive girl who just wants to be someone's love bug. If you have lots of love and plenty of time for Stella, contact DAR&E to learn more about her.
This is My Story
---
DAR&E only places within the Maryland, Virginia, Washington DC, Delaware, and in portions of both eastern West Virginia and southern Pennsylvania. Please do no apply to adopt if you live outside of those areas. Please visit our Adoption Process page for additional information on adopting one of our DAR&E Dobermans & an online application!
Our dogs are spayed/neutered, up-to-date on shots and microchipped.
How You Can Help Stella
A Tax deductible sponsorship gifts of any amount are welcome in support of our orphans.
DAR&E Wear
$15
Step 1 on the road to a forever home is a collar and tag. DAR&E dogs always have a home with us. Support a dog on its first steps by sponsoring the purchase of their collar and tag.
SPONSORS

All sponsorship donations are tax deductible and will be used to care for and for medical treatment for dogs in DAR&E's care. You can sponsor multiple dogs.