Hi, I'm Sugarcane
Status: adopted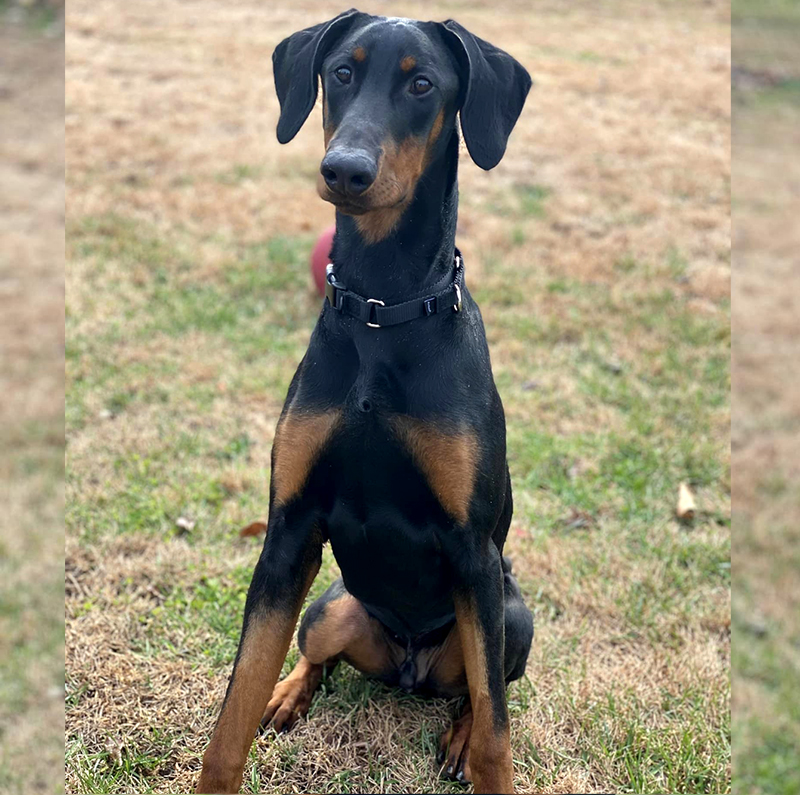 About Sugarcane
Sugarcane aka Cane is a 6-7 month old black & tan Doberman. He has a docked tail and natural (beautifully shaped) ears. Cane is learning the basics of walking on leash and getting in and out of the car. He will need continued work on leash manners and getting in and out of the car but he rides wonderfully and stays calm even on long rides! 
Cane has a ton of playful puppy energy, he will require a lot of exercise and activities. Long walks, playing ball, smelling new smells and learning the do's and don'ts on how to be a good boy. 
Watch Cane is action, playing and exploring his new surroundings.
Cane is very food motivated and responds quickly to learning new skills (sit, wait, leave it). He is very motivated by toys and especially likes hard chew toys.
Cane has a happy personality and like most puppies he gets excited about playing with other dogs.  He may overwhelm some dogs with his energy. We've successfully had him in the presence of two small min pins with no issues other than redirecting him to be respectful of their space. It is unknown how he would be around cats.
Cane is curious about everything and will push his nose on anything within his site or range including desktops and countertops – which means the area he is in should be puppy-proofed for now. 
Cane is really good at being in a crate. He is on his bed in a small crated area and does not whine when left alone at night. He is a sweetheart and will readily give hugs and kisses even to strangers. He also lets us know when he needs to go out and so far has had no accidents while in the house.
This is My Story
Sugarcane was found as a stray, and needs DAR&E to find him a new forever home.
---
DAR&E only places within the Maryland, Virginia, Washington DC, Delaware, and in portions of both eastern West Virginia and southern Pennsylvania. Please do no apply to adopt if you live outside of those areas. Please visit our Adoption Process page for additional information on adopting one of our DAR&E Dobermans & an online application!
Our dogs are spayed/neutered, up-to-date on shots and microchipped.
How You Can Help Sugarcane
A Tax deductible sponsorship gifts of any amount are welcome in support of our orphans.
DAR&E Wear
$15
Step 1 on the road to a forever home is a collar and tag. DAR&E dogs always have a home with us. Support a dog on its first steps by sponsoring the purchase of their collar and tag.
SPONSORS

All sponsorship donations are tax deductible and will be used to care for and for medical treatment for dogs in DAR&E's care. You can sponsor multiple dogs.