Hi, I'm T'Challa
Status: adopted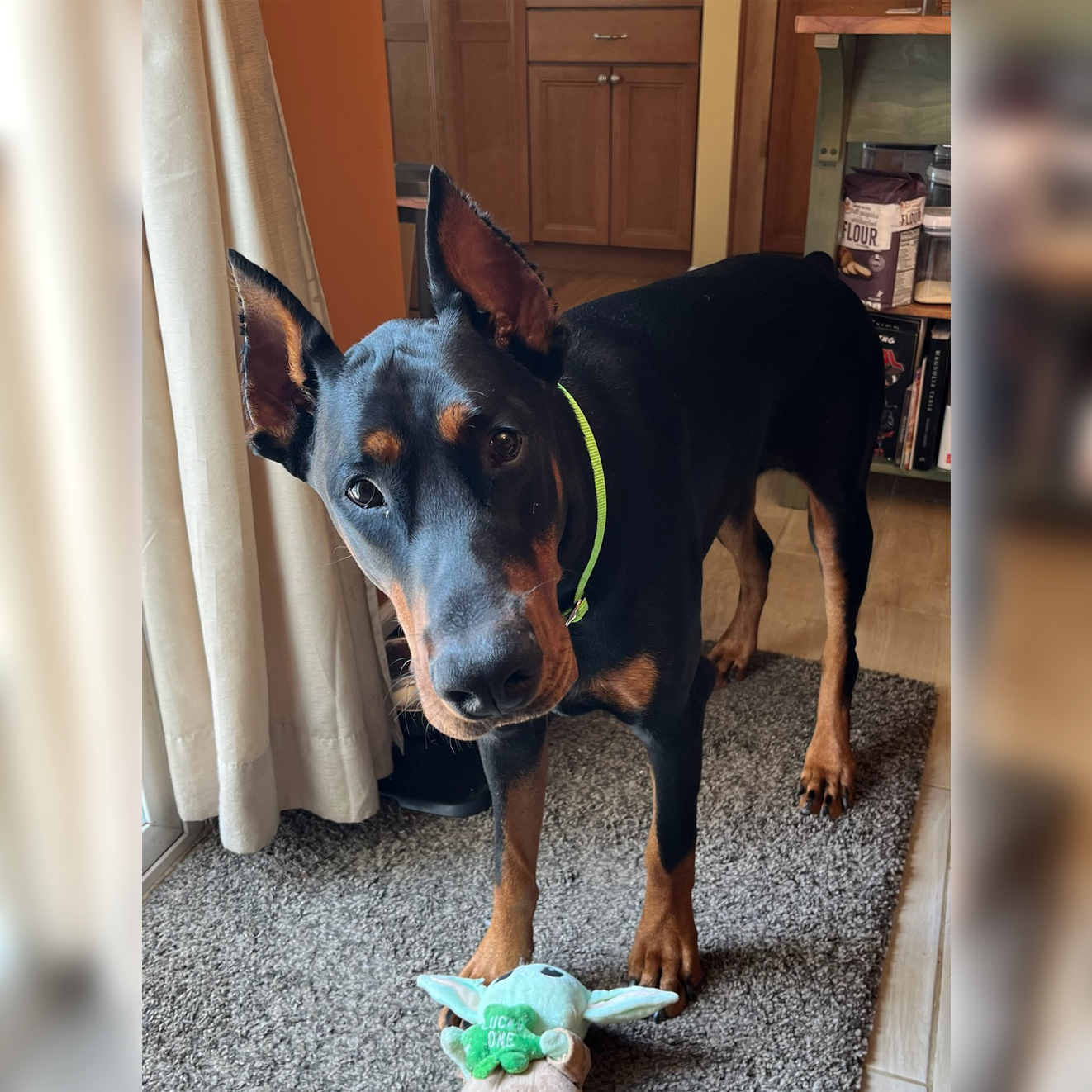 About T'Challa
TChalla is your typical one-year-old, black and rust, cropped and docked, 95lb Dobie goofball.  He is super sweet and loves to be around his people.  He's an active boy who loves to go on walks and would make a great hiking partner and once he turns two, could be a nice running partner too. 
TChalla is house-trained and crate trained.  He is okay on the leash, he can pull but also can walk quite nicely when the mood strikes.   He knows to sit, down, and stay, and at meal time he will sit and wait for his food until you tell him okay. He enjoys car rides, he takes a few minutes to settle down but will either stand and look out the window or lay down. At times his head is so heavy that he will rest it on your shoulder while you drive or try to sneak in Dobie kisses.  He does like to bark at the other dogs he sees while he's in the car. 
TChalla is good at amusing himself with his toys and can spend quite a bit of time playing with them or chewing on Nylabones and other rubber toys. His favorite toy though is the tennis ball and he loves to bring it to you to play a bit of fetch.  He does love his people though and you will never be alone once TChalla is in the house.  Need a sous chef, he's right there, scared to go to the bathroom by yourself, he's got you covered. 
In his previous home, Tchalla slept in the crate at night, however, we are working with him on sleeping on a dog bed in our room at night. He does not jump up to the counter but with how tall he is if something is on the dining room table and it's left unattended he might help himself to it.  He does get very excited when his people come home and can get a bit exuberant and because of his age, he does not realize his own size.  He's wonderful at the vet's office and everyone loves him and we have given him a bath that he tolerated well, even though he was sure he would melt in water.
We are not sure how he will do with cats, neither the previous owners nor his foster parents have cats.  We do not currently have a dog of our own, so his interaction with other dogs has been while out and about on walks and at various stores.  He's done well with the dogs we have met.  We have taken him with us as much as possible and he loves to explore and smell the new smells and meet new people. 
This is My Story
T'Challa found himself needing DAR&E to find him a new fur-ever home.
---
DAR&E only places within the Maryland, Virginia, Washington DC, Delaware, and in portions of both eastern West Virginia and southern Pennsylvania. Please do no apply to adopt if you live outside of those areas. Please visit our Adoption Process page for additional information on adopting one of our DAR&E Dobermans & an online application!
Our dogs are spayed/neutered, up-to-date on shots and microchipped.
How You Can Help T'Challa
A Tax deductible sponsorship gifts of any amount are welcome in support of our orphans.
DAR&E Wear
$15
Step 1 on the road to a forever home is a collar and tag. DAR&E dogs always have a home with us. Support a dog on its first steps by sponsoring the purchase of their collar and tag.
SPONSORS

All sponsorship donations are tax deductible and will be used to care for and for medical treatment for dogs in DAR&E's care. You can sponsor multiple dogs.