Hi, I'm Theo
Status: adopted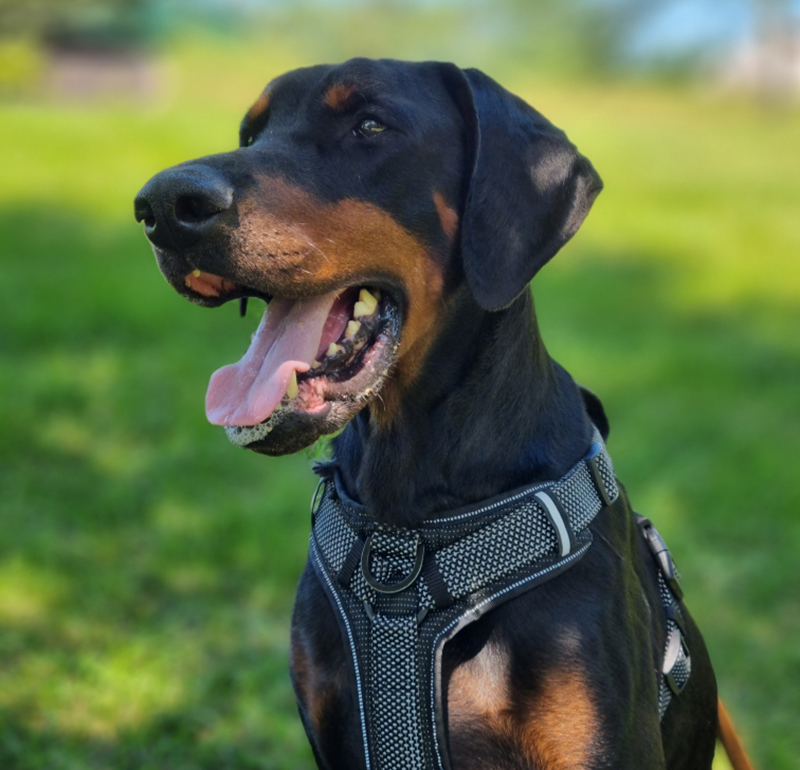 About Theo
Hi my name is Theo, I'm a black and tan, docked tail, natural-eared Doberman. I'm about 3-4 years old; I'm not sure because I was found as a stray before I came to DAR&E. DAR&E was the first place to stop and ask me "what do I need from my forever home?" I need lots of patience because I'm pretty shy, sensitive and insecure in new places and situations. I like other dogs to play with but I also like to have one or two humans all to myself, so I can get as much petting as I need. Let's be honest, the best thing besides getting fed is getting a pet! If I'm being totally honest here, sometimes I need my space, which is my crate or a very comfy bed, where I can decompress-undisturbed.  I would prefer to have a large backyard to patrol the perimeter, but I have lived where I would go out for long walks a few times a day. 
I'm like a typical Doberboy; clingy, smart, good looking and playful. Beware, I am terrible at catching a ball- but I'll try. However, there's a more sensitive side to me, I have a strong "poker face" which makes it difficult for people to read my body language. I'm not a fan of loud noisy households and kids are great but not for me. I like spending a lot of time with my humans, it makes me feel more secure. 
Finally, I think what I need most from my forever home is someone with Doberman experience who understands that us Dobermans are a sensitive breed.  I need someone who can help me work through my insecurities and help me become the happy, confident Doberman that I was born to be.
If you want to learn more, contact DAR&E.
This is My Story
Theo was found as a stray dog and came to DAR&E to find his forever home.
---
DAR&E only places within the Maryland, Virginia, Washington DC, Delaware, and in portions of both eastern West Virginia and southern Pennsylvania. Please do no apply to adopt if you live outside of those areas. Please visit our Adoption Process page for additional information on adopting one of our DAR&E Dobermans & an online application!
Our dogs are spayed/neutered, up-to-date on shots and microchipped.
How You Can Help Theo
A Tax deductible sponsorship gifts of any amount are welcome in support of our orphans.
DAR&E Wear
$15
Step 1 on the road to a forever home is a collar and tag. DAR&E dogs always have a home with us. Support a dog on its first steps by sponsoring the purchase of their collar and tag.
SPONSORS

All sponsorship donations are tax deductible and will be used to care for and for medical treatment for dogs in DAR&E's care. You can sponsor multiple dogs.