Hi, I'm Toby
Status: available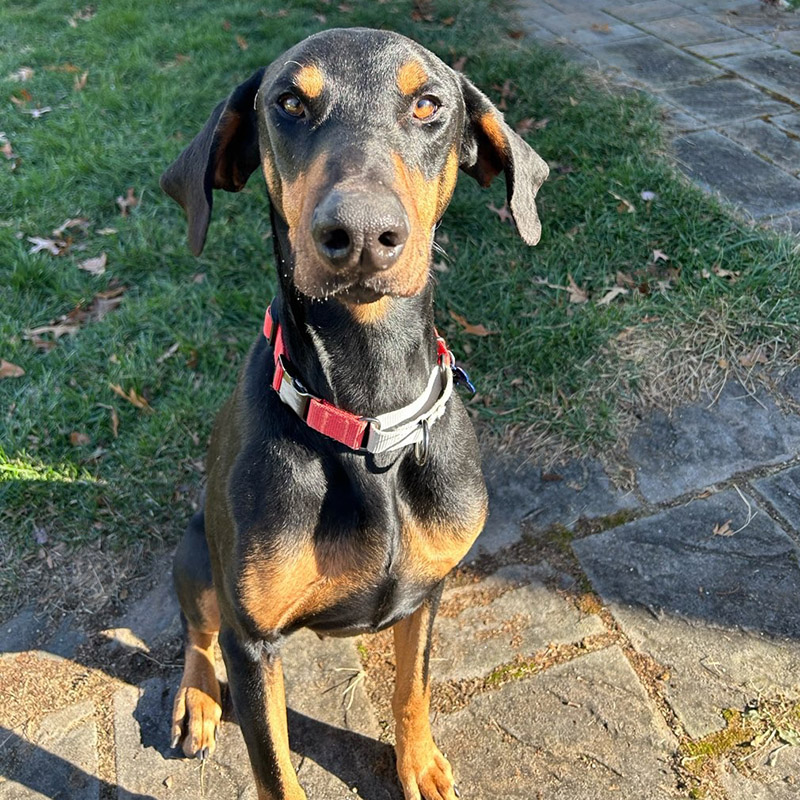 About Toby
Meet Toby, an approximately 3-year-old, black and tan, male Doberman with a docked tail and natural ears. Toby is the sweetest, most people-friendly Doberman we've had the pleasure of fostering.
He's calm in the house, and happiest sitting next to you and getting pets or laying near you while he sucks on his dog blanket. He is a very people-oriented dog. He did well-meeting visitors in our house, including an 11-year-old girl.
He sleeps quietly through the night in a crate in our bedroom. When we leave the house, Toby is free to roam our finished basement. He leaves shoes alone, has been non-destructive around furniture, and does very well on a set potty schedule.
Toby doesn't seem to need a high level of exercise but is always happy to go on walks. He walks well on a leash until he sees squirrels and then he pulls to get closer to them. Because he has a prey drive he may not do well in homes with small pets. He doesn't show interest in other dogs while we are out on walks so areas with lots of dogs shouldn't be a problem.
Toby travels well in the car. He curls up on the back seat in our dog hammock, clipped to the seatbelt. He also did very well at his vet visit.
Toby is approximately 65 pounds and needs to gain about 10 pounds. We think he will do best as an only dog but he may be ok with another calm dog. Toby has perfected the Doberman lean, as he leans against his foster humans looking for pets. Toby is very loving and is going to make a great companion.
Check him out playing in our yard: https://youtube.com/shorts/FG59HM8YqSU?feature=share Toby is fostered in Maryland.
This is My Story
Toby found himself needing DAR&E to find him a new home.
---
DAR&E only places within the Maryland, Virginia, Washington DC, Delaware, and in portions of both eastern West Virginia and southern Pennsylvania. Please do no apply to adopt if you live outside of those areas. Please visit our Adoption Process page for additional information on adopting one of our DAR&E Dobermans & an online application!
Our dogs are spayed/neutered, up-to-date on shots and microchipped.
How You Can Help Toby
A Tax deductible sponsorship gifts of any amount are welcome in support of our orphans.
DAR&E Wear
$15
Step 1 on the road to a forever home is a collar and tag. DAR&E dogs always have a home with us. Support a dog on its first steps by sponsoring the purchase of their collar and tag.
SPONSORS

All sponsorship donations are tax deductible and will be used to care for and for medical treatment for dogs in DAR&E's care. You can sponsor multiple dogs.