Hi, I'm Wilson
Status: adopted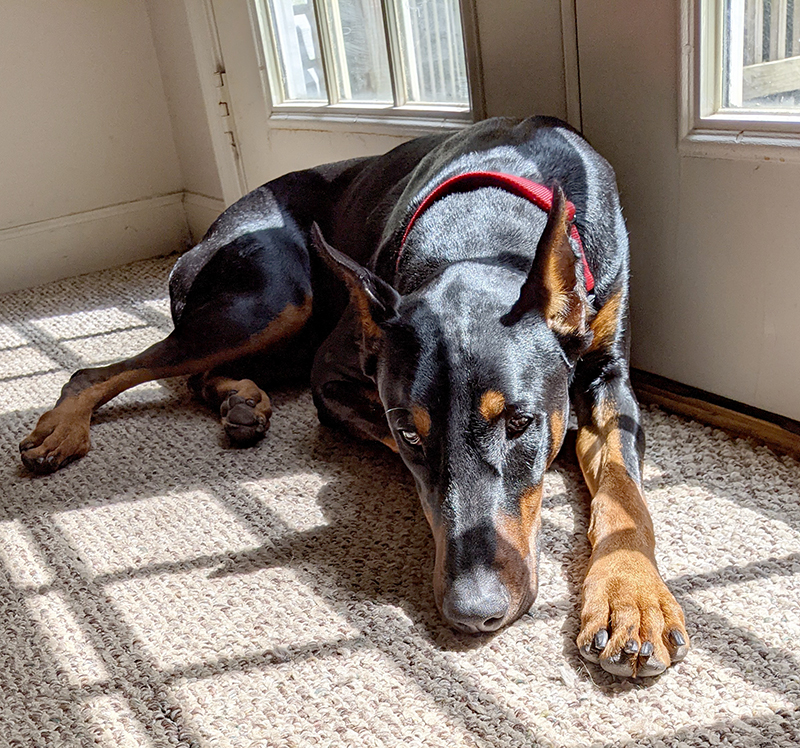 About Wilson
Meet Wilson! Due to a strong desire to chase everything, Wilson must go to a home with a fenced yard. Wilson is a one-year-old male with cropped ears and a docked tail. He has the typical energy level of a one-year-old, which is to say quite a bit!
He sleeps in a crate, which he'll enter easily for a treat. He rides well in a car, although he wants to see what's going on outside. He's very good at basic commands such as sit, down, touch. He knows wait, but struggles at times to maintain that until you release him. We've been working on his recall and impulse control, and he's doing a good job with both. He has learned to walk pretty well on a loose leash, although he needs to be reminded frequently not to pull. And if he finds an interesting smell along the way, he has no problem pulling you to it.
Wilson is very intelligent and eager to learn new things. He's also very curious, so he'll need lots of mental stimulation to keep him out of trouble. He wants to be where the action is, and doesn't like to be separated from his people. He's friendly with new people, and typically doesn't jump up unless he's playing and gets overly excited. He loves to chase balls and frisbees, and to play tug with a rope toy. And he likes other dogs.
If you have the time to work with him every day, he will be an excellent companion.
This is My Story
---
DAR&E only places within the Maryland, Virginia, Washington DC, Delaware, and in portions of both eastern West Virginia and southern Pennsylvania. Please do no apply to adopt if you live outside of those areas. Please visit our Adoption Process page for additional information on adopting one of our DAR&E Dobermans & an online application!
Our dogs are spayed/neutered, up-to-date on shots and microchipped.
How You Can Help Wilson
A Tax deductible sponsorship gifts of any amount are welcome in support of our orphans.
DAR&E Wear
$15
Step 1 on the road to a forever home is a collar and tag. DAR&E dogs always have a home with us. Support a dog on its first steps by sponsoring the purchase of their collar and tag.
SPONSORS

All sponsorship donations are tax deductible and will be used to care for and for medical treatment for dogs in DAR&E's care. You can sponsor multiple dogs.