Hi, I'm Wolfgang
Status: adopted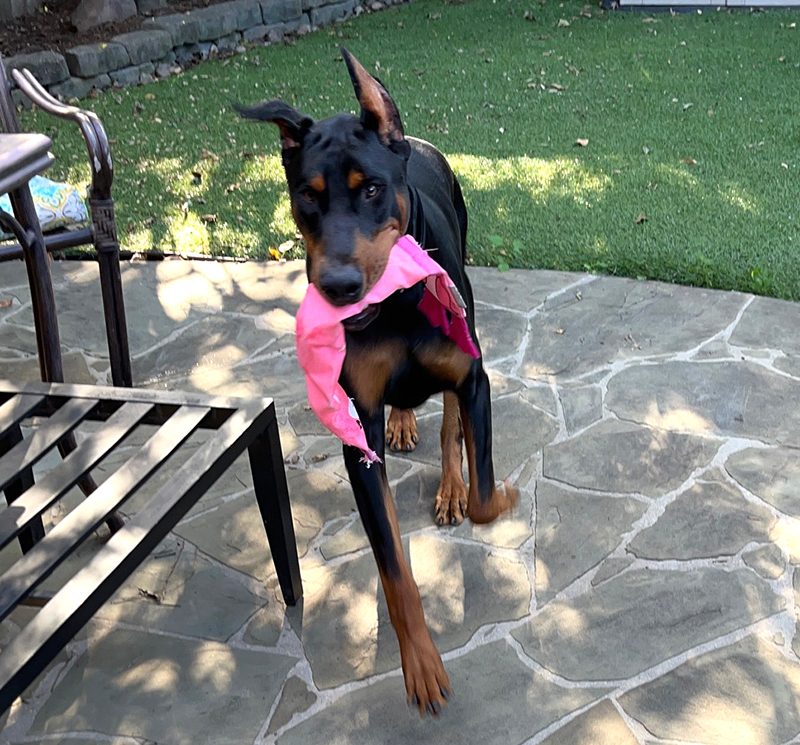 About Wolfgang
Meet Wolfgang, black and tan and just one year old! His ears are cropped but they do not stand up. He is from a 3-generation registered AKC pedigree. All he wants is your love, attention, and to play with you.  He is the definition of a velcro dog and will follow you everywhere. He's actually just a big baby. When he is anxious and nervous, he will look to you for comfort.
He has a lot of energy and is always on the move or playing with a toy. He is working on leash training, but it's obvious he hasn't had much leash experience. At 95 lbs, he's very strong. He loves chewing on bones and tossing ropes around and, of course, showing all of them to you hoping you'll play with him. He's as gentle as a lamb meeting and greeting someone on the street.
He will need someone with experience in training, or at the very least a lot of patience. He loves treats but gets distracted easily. He knows sit and gives his paw. It's his signature move. He does really well in his crate during the day and sleeps there at night.
In his previous home he lived with a Jack Russell, a Rottweiler, a cat, and a rabbit, so he gets along with other animals. If he tries to eat something outside that he shouldn't, you can take it from him, you can clean his ears, touch his paws, wipe his eyes, he pretty much lets you do whatever you want to him. He is also good with small children, just may be too big and clumsy.
This is My Story
Wolfgang found himself needing DAR&E to find him a new home.
---
DAR&E only places within the Maryland, Virginia, Washington DC, Delaware, and in portions of both eastern West Virginia and southern Pennsylvania. Please do no apply to adopt if you live outside of those areas. Please visit our Adoption Process page for additional information on adopting one of our DAR&E Dobermans & an online application!
Our dogs are spayed/neutered, up-to-date on shots and microchipped.
How You Can Help Wolfgang
A Tax deductible sponsorship gifts of any amount are welcome in support of our orphans.
DAR&E Wear
$15
Step 1 on the road to a forever home is a collar and tag. DAR&E dogs always have a home with us. Support a dog on its first steps by sponsoring the purchase of their collar and tag.
SPONSORS

All sponsorship donations are tax deductible and will be used to care for and for medical treatment for dogs in DAR&E's care. You can sponsor multiple dogs.