Hi, I'm Ziggy
Status: adopted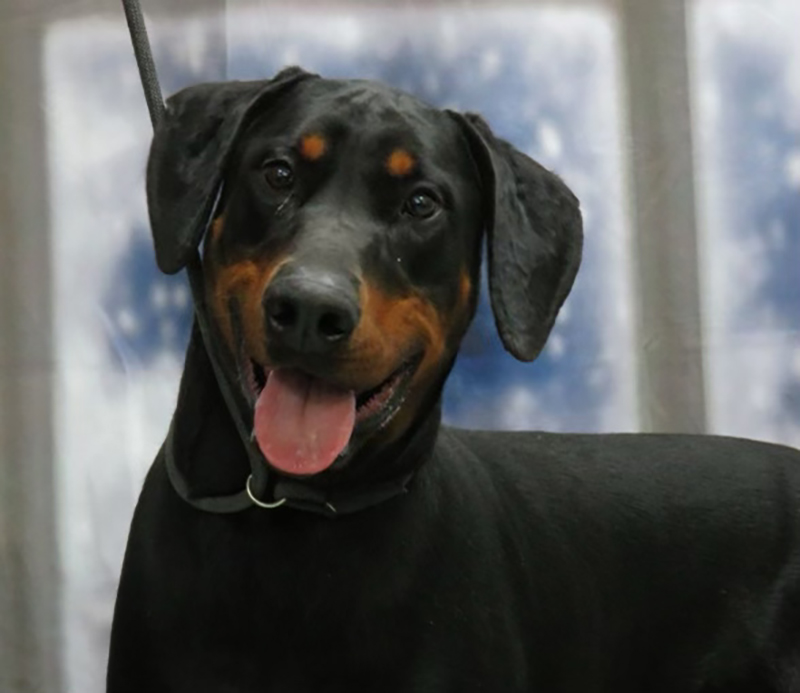 About Ziggy
Hi, my name is Ziggy Stardust, but my friends just call me Ziggy. I'm a sweet and handsome one-year-old puppy with natural ears, a docked tail, and lots and lots of energy. My voice is deep and scary sounding, but I'm really very friendly and I love to make new friends, whether they're humans, dogs, or cats. The cats here always run away from me, though, and I run after them. I don't want to hurt them. I just really want to play. I'll play with my stuffed toys and bones for a while, but I really like to be where my humans are. I use my mouth quite a bit when I play with them. My foster mom says that's not allowed, and I'm trying to remember, but it's hard! I also like to play with my foster mom's other dog, when she's in the mood for it. I like it when she chases me around the room. When I get really excited during play time, I'll jump and swing my front paws.
I like to run, and chase balls outside, so I'd probably do best with a fenced yard. If you don't have a fence, you'll need to take me on lots of long walks to burn off some of my energy. I'm working on my leash manners. I don't pull as hard as I did a week ago, but I still like to investigate all of the interesting smells along the way, so I need to be reminded quite frequently not to tug on the leash. I'm very interested in food, too, so you can use that to help me remember. My foster mom has been making me work for my dinner, learning things like "sit" and "down".
I do well riding in a car, especially if the windows are open just a bit. Don't be surprised if I put my chin on your shoulder to see where we're going. I'm an excellent back-seat driver! I'm house-trained, and I sleep in a crate. I'll also go in the crate if something upsets me, so it's kind of a safe space for me. Like when that scary vacuum cleaner came out – I really didn't like that thing! That's about the only thing that's scared me so far, though. I'm pretty curious about everything else I've seen. I don't chase squirrels or rabbits, but I do notice things that fly, like birds and moths. They look like they would be fun to chase! I also like to splash in puddles and wade in the creek.  I haven't seen a beach yet, but I bet I'd love to swim too!
I like to lean on my humans for pets and ear scratches, and I love to give them kisses. I'm looking for either a very active family who can give me lots of time and attention, or a family with another dog who would love to play with me. If either of those sounds like your family, contact DAR&E today. I'd love to meet you!
This is My Story
Ziggy needs DAR&E to find him a new home.
---
DAR&E only places within the Maryland, Virginia, Washington DC, Delaware, and in portions of both eastern West Virginia and southern Pennsylvania. Please do no apply to adopt if you live outside of those areas. Please visit our Adoption Process page for additional information on adopting one of our DAR&E Dobermans & an online application!
Our dogs are spayed/neutered, up-to-date on shots and microchipped.
How You Can Help Ziggy
A Tax deductible sponsorship gifts of any amount are welcome in support of our orphans.
DAR&E Wear
$15
Step 1 on the road to a forever home is a collar and tag. DAR&E dogs always have a home with us. Support a dog on its first steps by sponsoring the purchase of their collar and tag.
SPONSORS

All sponsorship donations are tax deductible and will be used to care for and for medical treatment for dogs in DAR&E's care. You can sponsor multiple dogs.