DAR&E offers CGC testing to our volunteers and adopters at our spring and fall BBQ's.
Is your dog a canine good citizen? The American Kennel Club developed the "Canine Good Citizen" test program in 1989 to assess dogs' reactions to everyday real-life situations. This non-competitive test was designed to reward dogs (purebred, mixed breeds and disabled) who exhibit good manners and promote responsible pet ownership.
Many dog training clubs use the CGC test as a graduation exercise for completing advanced basic obedience classes. The CGC test is used in conjunction with other screening tools by some therapy dog organizations for selecting potential therapy dogs.
CGC tests are conducted by dog clubs throughout the country as community outreach projects and may take place at dog training centers, dog shows and community events. The evaluators are certified by the American Kennel Club and must be capable of judging if dogs are safely under their owners' control and do not display aggression or fear. To insure passing the ten-part test, the dogs should be well socialized and have successfully completed basic obedience training.
To qualify for the AKC Canine Good Citizen certificate, dogs must pass all ten tests. The evaluator provides the handler with the completed test form which the handler sends with the $5 fee to the AKC to receive the official CGC certificate.
Although earning the CGC certificate is a major achievement, dog owners should be committed to abide by the Responsible Dog Owners Pledge and serve as role models to the community.
Reprinted Courtesy of The Advocate of Eldersburg and Sykesville, November 12, 2008, page 12
---
Training classes teach you how to best communicate with your puppy. Organized training classes also provide an opportunity for your dog to socialize with other dogs. In classes aimed at earning the AKC S.T.A.R. Puppy distinction, you'll be able to get information on all of your puppy-raising questions including housetraining, chewing, and the most effective way to teach practical skills such as coming when called. AKC S.T.A.R. Puppy training is a natural lead in to the AKC® Canine Good Citizen® Program.
When you complete a basic training class (taught by an AKC Approved CGC Evaluator) with your puppy (up to 1 year old) your puppy is eligible to be enrolled in the AKC S.T.A.R. Puppy Program.
Reprinted Courtesy of AKC.org
---
Many people have discovered the fun of teaming up with their dogs and competing in AKC Events. But, not all of those wonderful canine athletes that you see at these events are registered with the AKC. Some might be enrolled in the AKC's Purebred Alternative Listing/Indefinite Listing Privilege (PAL/ILP), a program that allows unregistered dogs of registrable breeds to compete in AKC Performance and Companion Events.
If you have a purebred dog that cannot be registered with the AKC and have a desire to see what your dog can do in real competition, a PAL/ILP number is your ticket to the world of AKC events and clubs!
Reprinted Courtesy of AKC.org
---
Therapy Dogs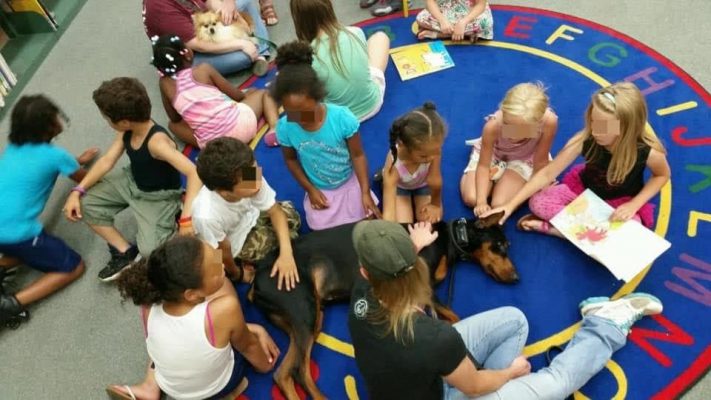 Therapy dogs are trained to provide emotional support and love to people in nursing homes, senior centers and other facilities where assisted care is needed.  Therapy dogs provide companionship, physical assistance and often help humans form therapeutic bonds that provide physical, psychological and social benefits.
Interaction with dogs is known to lower blood pressure, lower cholesterol and triglyceride levels, reduces loneliness and depression and can improve the sense of self-esteem and well being.  It can also result in improved motivation and motor skills in people with physical disabilities.  Coronary patients are more likely to survive the first five years after surgery with visits from therapy dogs.  Children who have difficulty opening up to adults will tell secrets to dogs.  This helps them open up to counselors and friends.  Children trapped in a cycle of antisocial behavior are positively affected by dogs.
Reprinted Courtesy of Caring Canines
To begin work as a therapy dog, the dog must be at least one year of age, must first pass the AKC Canine Good Citizen Program and be certified and then join a therapy group in your area.  Some groups require dogs pass and be certified as a therapy dog through one of the certifying agencies.  These groups are qualified to administer the therapy dog testing.  Others have their own temperament tests which the dog must pass.  To learn more, visit the sites below.
Therapy Dogs, Inc. provides registration for certified dog teams, support and insurance for members who are involved in volunteer animal assisted activities.
---
Delta Society is the leading international resource for the animal-human bond and also provides registration for certified dog teams, support and insurance for members who are involved in volunteer animal assisted activities.
---
Caring Canines is a dog therapy group supporting the Richmond, VA area.  Caring Canines provides testing for both Therapy Dogs, Inc and Delta Society.
---
Fairfax Pets on Wheels  is a dog therapy group serving the Fairfax County, VA area
---
MetroPets.org   To find a therapy group near you in the DC metro area, scoll down to "Therapy Organizations"